This entry is part of Park Views, a weekly Asheville Parks & Recreation series that explores the history of the city's public parks and community centers – and the mountain spirit that helped make them the unique spaces they are today. Read more from the series and follow APR on Facebook and Instagram for additional photos, upcoming events, and opportunities.
What would happen if cities took underutilized, overgrown lots and turned them into sustainable parks that also serve as local sources of food? That's the question community members sought to answer when they approached Asheville Parks & Recreation (APR) with the idea to create the first public food forest in the United States, Dr. George Washington Carver Edible Park.
Sowing the Seeds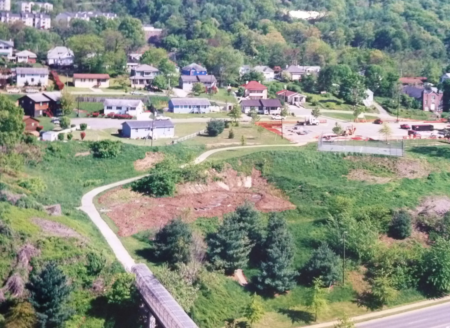 Local nonprofit City Seeds had been making an impact by advocating for urban sustainability and as an Adopt-a-Street participant when its leaders developed The Bountiful Cities Project. Their proposal to APR sought to "combine elements of parks, community gardens, and natural forest systems to create edible public open spaces where community members gather for picnics, relaxation, fun and play, workshops, and other recreational activities. Food is readily available from every plant and tree and all the vegetation is useful in one way or another." 
The idea was to design a park that would require little maintenance after the initial cultivation. City Seeds argued that cities were already centers for sustainable practices due to their density, concentration of services, and public transportation networks, but their lack of internal food systems led to tons of food being imported and tons of waste exported each day. Asheville's project could act as a blueprint to address known challenges including urban food security, air quality, and long-term preservation and maintenance of city park systems.
Over the course of a year, details were worked out. Fourteen potential locations were identified in parks and on other City of Asheville property. An undeveloped area on the edge of Stephens-Lee Community Center's campus was chosen as the pilot site and $25,000 in grant funding was secured from WNC Community Foundation and Z. Smith Reynolds Foundation. 
APR and City Seeds hosted design workshops and the first volunteer workday took place on March 21, 1998. It was dedicated as the country's first edible public park on October 24 after seven months of community "work and learn" days. Opening day included tours of the park, story telling, pumpkin decorating, bobbing for apples, and raffles. 
New Harvest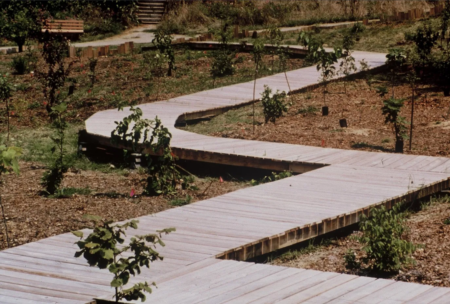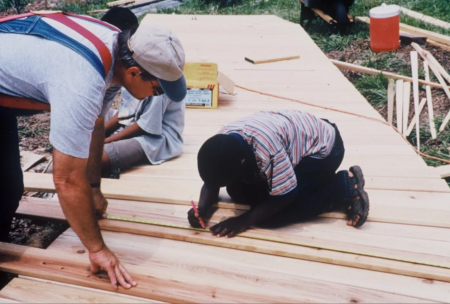 The 1.5-acre park was modeled after a permaculture forest garden, mimicking the seven layers of a natural forest ecosystem: canopy, sub-canopy, shrub, herbaceous, ground cover, root, vertical/climber, and aquatic layers. City Seeds' initial plans called for vegetation to become self maintaining in two to four years with educational workshops taking place during that time so that edible parks could be developed throughout Asheville. By 1999, another edible park was added at Tempie Avery Montford Community Center.
The first edible park came together relatively quickly, a testament to the hard work and innovation of community members joined with APR's resources. However, a turnover in City Seeds leadership led to little maintenance as the space fell into neglect. The food forest continued to grow on its own, but it became disconnected from its purpose to provide a pleasing gathering space and sustainably produce food for the community. The nation's first public food forest lost its identity.
Bountiful Cities, an Asheville-based nonprofit dedicated to urban agriculture, entered into an agreement in 2002 with APR to organize volunteers and maintain the park's fig, peach, plum, apple, and mulberry trees. A similar agreement with the group remains in place today.
As the edible park began to thrive, Bountiful Cities, Asheville GreenWorks, and other organizations established muscadines, paw paws, persimmons, and other edible foliage at additional parks and public spaces.
Dr. George Washington Carver Edible Park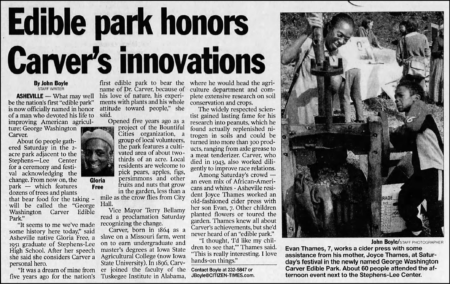 A sign at the city's first edible park simply read, "The Bountiful City Project," though it was sometimes referred to as Stephens-Lee Edible Park. A community member made a case to change the name. In 2003, the APR Advisory Board unanimously approved a request to rename the park in honor of Dr. George Washington Carver from Lady Gloria Free, a Stephens-Lee alum and founding board member of City Seeds. 
At the dedication, she said, "It was a dream of mine from five years ago for the nation's first edible park to bear the name of Dr. Carver because of his love for nature, his experiments with plants, and his whole attitude towards people. The woods and forest served as his cathedral. He would ask questions, listen to instructions, then go into his laboratory and create at a very high level."
Dr. Carver was an agricultural scientist and inventor who developed hundreds of products. Born into slavery a year before it was outlawed, he was the first Black American to earn a Bachelor of Science degree, followed by a master's degree from Iowa State University. He would go on to teach and conduct research at Tuskegee University for the rest of his life. His childhood home in Missouri was named a national monument soon after his death in 1943, the first of its kind to honor a Black person.
Carver introduced the idea of crop rotation, growing soil-replenishing plants like peanuts, soybeans, and sweet potatoes to restore nutrients to soil depleted by years of growing cotton. Although the result was high yields of cotton, a surplus of peanuts and other non-cotton products led to Carver's development of more than 300 food, industrial, and commercial products from peanuts including milk, Worcestershire sauce, punches, writing inks, cooking oils, salad oils, paper, cosmetics, soaps, and wood stains. He also experimented with peanut-based medicines, such as antiseptics, laxatives, and goiter medications.
Abundant Yields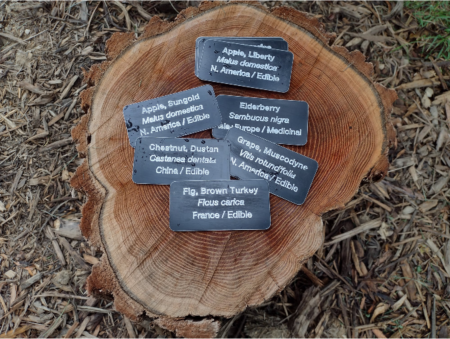 The nation's first edible park has been recognized in The Smithsonian, New York Times, and multiple scientific articles about food security. With over 40 varieties of mature fruit and nut trees, a butterfly habitat, and a community garden, maintaining the space is a year-round job for dedicated volunteers. This grassroots approach gives the community an ongoing sense of pride and ownership in the project.
To volunteer at the next work and learn day, contact Stephens-Lee Community Center at (828) 350-2058 or search APR programs.
If you are experiencing hunger or food insecurity, visit the City of Asheville's food resource map or explore NC 211's database.
Do you have photos or stories to share about Dr. George Washington Carver Edible Park? Please send them to cbubenik@ashevillenc.gov so APR can be inspired by the past as we plan our future.
Photo and Image Credits
Work and learn days include educational presentations and hands-on activities for all ages.

A view across South Charlotte Street during construction provides a view of the site's size that's hard to imagine today as it's covered with mature trees, vines, and other plants.

Dr. George Washington Carver Edible Park's success is largely thanks to thousands of volunteers who have given time and talent to shape the space over the years.

Many of the original trees and plants remain in the food forest today.

Lady Gloria Free helped establish the edible park in the East End Valley Street neighborhood. A community activist and Asheville native who helped originate

Goombay

, she requested the food forest be named in memory of Dr. Carver.

With over 40 different species of fruit and nut trees, a walk through this city park finds figs, apples, pears, chestnuts, hazelnuts, plums, peaches, grapes, and paws paws – to name a few. While visitors are encouraged to enjoy freshly picked produce from the park, they are discouraged from taking more than their fair share. Courtesy of Dr. George Washington Carver Edible Park Facebook Page.