The City has committed to reducing carbon emissions from municipal operations since 2007 when City Council adopted Resolution 07-90 and reaffirmed that commitment in 2011 by increasing the annual carbon reduction goal through Resolution 11-77. 
In fiscal year 2019/2020 (July 1, 2019 – June 30, 2020), the City saw a 2.3% reduction in carbon emissions as compared to the FY2008 baseline despite an increase in services. The presentation provided to the Sustainability Advisory Committee on Energy and the Environment at the August 18, 2021 meeting is linked here.
In addition to measuring carbon emissions from municipal operations, the Office of Sustainability was also excited to work with a student from the Lenoir Rhyne Masters of Sustainability Studies program to measure the carbon footprint from the city at large. The carbon emissions from 2019 for the city of Asheville are summed up in this infographic.  
The last time the citywide emissions were measured was in 2012. Since 2012, the citywide carbon emissions rose a little more than 1%, however, we have also seen an 8.5% increase in population. Additionally, carbon emissions per capita are down to 15.32 compared to 16.53 in 2012. This is slightly below the national average of 15.52. 
Comparing the data from 2012 and 2019 will provide the community key insights into what initiatives, programs and policies may have moved the needle on mitigating carbon emissions. This information will be important as the City and the community address the climate emergency and community wide renewable energy goals.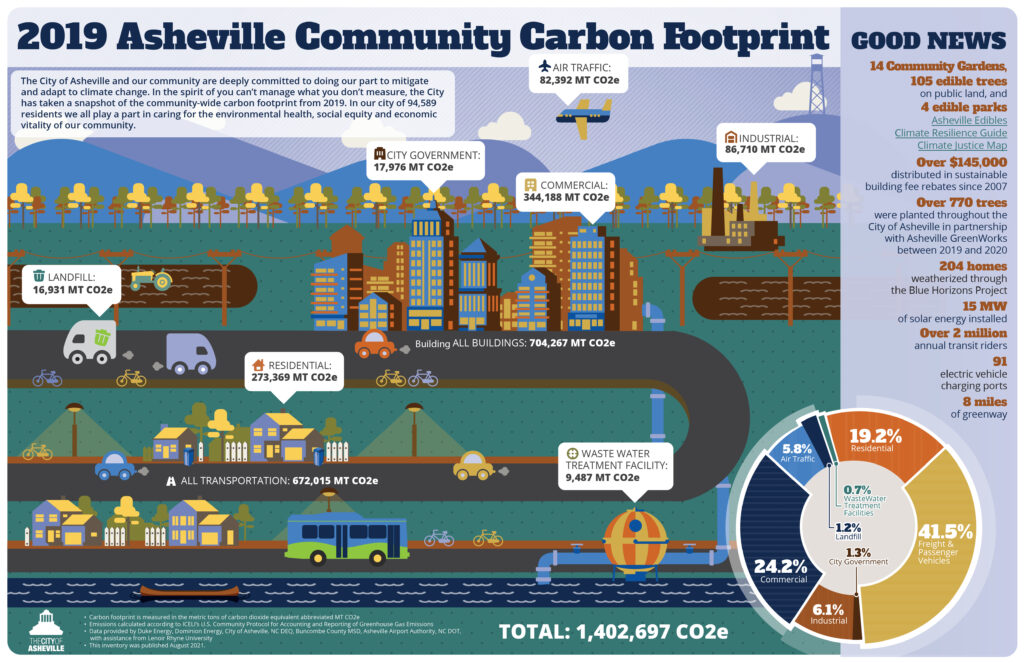 For more information on the Office of Sustainability, please visit ashevillenc.gov/green.