In alignment with Buncombe County, on March 19, Asheville Mayor Esther Manheimer signed a newly amended State of Emergency proclamation for the City of Asheville, based on the public health emergency posed by COVID-19.
This proclamation limits public gatherings on property owned by the City of Asheville to no more than 10 people.
The new order adheres to new guidance issued by the White House March 16. It also aligns with increased measures issued March 19 by Buncombe County that limits gatherings of 10 people, including at gyms, fitness centers and exercise facilities, indoor pools, spas, movie theaters, live performance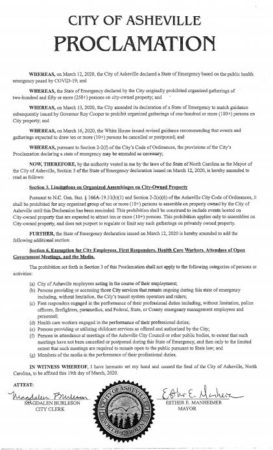 venues and arcades. It does not include normal operations at medical facilities, airports, bus and train stations, shopping malls, office environments, factories, and child care centers.
The Buncombe County order applies to the six municipalities within the county, including Asheville.
The goal is to increase social distancing in a community-wide effort to slow the spread of the COVID-19 virus.
According to the CDC, 170,000 confirmed cases of coronavirus disease 2019 (COVID-19) have been reported globally, including an estimated 7,000 deaths in approximately 150 countries. On March 11, the World Health Organization declared the COVID-19 outbreak a pandemic.
Nationwide and locally, including in Asheville, the top priority is to minimize the spread of COVID-19 and avoid overwhelming our healthcare network. And that is primarily being done through social distancing measures.
Toward that end, City Hall and other municipal buildings were closed to the public as of March 17. Employees who are able to complete their work offsite during this COVID-19 public health emergency are working remotely in a telecommuting mode. Staff have remote access to hold meetings, respond to phone calls and emails.
All essential police, fire, sanitation, transit and water services are being maintained as we continue to serve and protect this community.
While Buncombe County Health and Human Services this week acknowledged a presumptive positive case of the novel coronavirus 2019 (COVID-19) in a person who visited Buncombe County last week that person is no longer in Buncombe County and so far no other cases have been confirmed.
We continue to coordinate City response with Buncombe County and State health officials.
This is an evolving situation and information is often changing. For resources on prevention best practices and news updates, visit Buncombe Ready. Guidance is also posted on the Buncombe County Health & Human Services website.
For information on how to sign up for City and County government and City and County schools alerts, visit this link.
RELATED:
Buncombe County declaration mandates expansion of social distancing, closes certain businesses
Asheville installs social distancing measures on ART buses during COVID-19 public health emergency