The Senior Opportunity Community Center has unveiled a unique mural of Dr. Martin Luther King, Jr., created by volunteers and staff. The art project was part of Asheville Park & Recreation's Black Legacy Month programming in February. Combining paper craft and painting, the colorful and large panel conveys Dr. King's hope for equality, justice, and a better tomorrow.
"Our community center acts as a focal point for active older adults, so many of them have lived experiences that include the periods of segregation, civil rights movement, and integration into the present time," according to Asheville Parks & Recreation's Shannon Reach. "As we spoke with our regulars, they wanted to celebrate Black history in a new way. Some of the primary goals of the Senior Opportunity Community Center are to explore aging independently, connect by sharing knowledge, and discover new interests, so we decided to create this mural."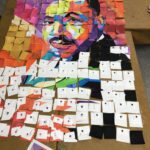 Reach first created a smaller version of the mural. Next, she arranged paper squares and sketched the larger piece of art. Under her supervision, volunteers spent several hours over a few days painting and piecing together the hundreds of slips of paper to bring the entire vision together. Much like the dream Dr. King spoke of in iconic speeches, several individuals working together created a vibrant vision to be enjoyed by the greater community.
"Not only did it lead to the mural, conversations and stories were shared throughout the process," says Shateisha Bowden, Senior Opportunity Community Center Facility Manager. "Art is special in that it removes language barriers and can be interpreted differently when filtered through our own experiences."
The mural will remain on display inside the center on 36 Grove Street in downtown Asheville over the next few weeks. Community members are invited to view the work during regular operating hours, Monday-Friday from 9 a.m.-5 p.m.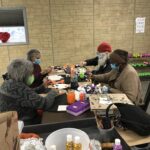 The Senior Opportunity Community Center offers meals, games, exercise and wellness classes, education and arts programs, volunteer and civic engagement information, social and cultural activities, conversation, and more. For upcoming events and opportunities at the center, visit AVLrec.com.