Devin Smith has been part of Asheville Parks & Recreation (APR) since he was seven years-old, taking part in Stephens-Lee Community Center programs such as afterschool and summer camp. After Vice Mayor Sandra Kilgore read a proclamation designating July as Asheville Parks & Recreation Month, the young community member stepped up to the podium to share the personal importance of parks and recreation.
Devin's Memories and Milestones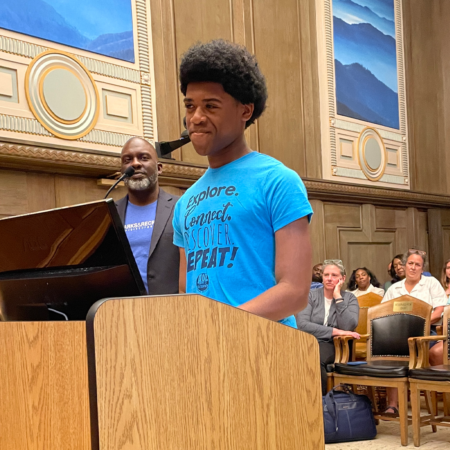 "Through Asheville Parks & Recreation, I have learned so many things," he began. "Over the past seven years, I have learned how to make salsa from our community garden where we planted and harvested peppers. I have learned how to sew and enjoyed programming that helped me grow as an individual. I have also been able to volunteer with events at Stephens-Lee. I have helped with toddler events, the senior citizen prom, and I was able to be a scarer at the Halloween event." 
He continued, "They take us on field trips, like ice skating, white water rafting, and a fun-filled Washington DC trip! One of my most thankful memories is attending a PODS (Positive Opportunities Develop Success) site during the pandemic. Having a place to go to use WiFi, eat lunch, and virtually attend classes really helped during that time. I have matured so much over these past years and really thank Asheville Parks & Recreation for giving me room to grow, a place to make new friends, and opportunities to learn new things. Thank you, Asheville City Council, for proclaiming July as Asheville Parks & Recreation Month!"
Room to Grow
While Asheville's parks, greenways, community centers, and other public recreation areas – and the experiences that take place within them – have positive impacts on people of every age each day, APR's programs and opportunities for young people appear essential when community members like Devin share stories of how they foster our future leaders and build our best community.
Since 1985, the U.S. House of Representatives has designated July as Parks and Recreation Month in recognition of the power of parks and recreation to build happy, healthy, and resilient communities. Join your community in celebrating the fundamental strength of a parks and recreation system powered by the people of Asheville by attending an event, taking part in a class or program, or simply spending time in one of more than 70 public parks throughout the city.
If you don't want to miss a moment, sign up for Asheville Parks & Recreation's monthly newsletter or follow APR on Facebook and Instagram.
Proclamation
WHEREAS all Ashevillians believe equitable and accessible parks, recreation, and active living experiences are essential and fundamental rights, allowing residents to explore, connect, and discover; and
WHEREAS our community is a better and safer place when everyone from infants to retirees has the opportunity to be supported, healthy, and successful; and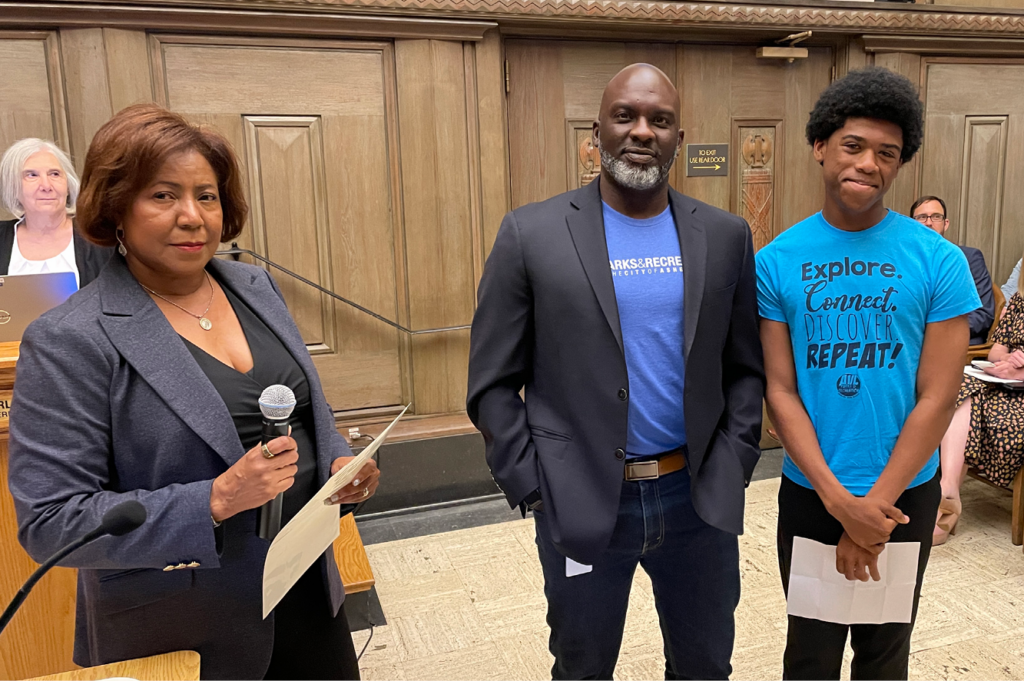 WHEREAS Asheville's oldest public parks date to the 1890s and Asheville Parks & Recreation continues to be the trusted steward of our community's shared recreation spaces including hundreds of acres of parks, playgrounds, greenways, and open areas throughout the city in a system that includes full-complex recreation centers, swimming pools, Riverside Cemetery, sports fields and courts, and community centers that offer a variety of wellness-, education-, and culture-related programs for people of all ages every day; and
WHEREAS Asheville Parks & Recreation addresses multiple community challenges through innovative programs that aid in prevention of chronic disease, provide therapeutic recreation services for those who are mentally or physically disabled, counter social isolation by connecting people with nature and each other, and also improve the mental and emotional health of all who live here; and
WHEREAS Asheville's future leaders thrive on critical activities such as afterschool programs, sports, summer camps, mentorship, and youth and teen programs that are critical to foster imagination and creativity, healthy habits, teamwork, social equity, emotional stability, civic trust, and environmental responsibility; and
WHEREAS well-maintained parks placed throughout the city are adaptable infrastructure that make our area resilient in the face of natural disasters and climate change, providing sustainable environmental solutions while preserving the unique culture, natural beauty, and well-being of both legacy and emerging neighborhoods; and 
WHEREAS parks and natural areas enhance water quality, prevent flooding, improve air quality, provide vegetative buffers to development, maintain the urban tree canopy, and produce habitats for wildlife that can also house community gardens and edible vegetation for urban foraging; and
WHEREAS Asheville Parks and Recreation is a core pillar addressing Asheville City Council's priorities of improving and expanding core services, neighborhood resilience, and reimagining public safety.