Having received recent questions from media and the public regarding a discolored water event that happened in the spring, the City of Asheville wants to let everyone know that, in September, the final leg of the North Fork Waterline Bypass Project will occur. We also want to share the schedule, plus information about additional measures the City is taking to help mitigate customer impacts, such as the potential for discolored water.
The project:
North Fork transmission waterline bypass installation
This year, the City of Asheville has been making significant water transmission line improvements near the North Fork Dam. This installation of a third water transmission line has been identified as a critical addition to the water delivery system, designed to protect our community from a system-wide water loss during a major flood, as what happened during the Flood of 2004.
The tropical storms and flooding that followed in 2004 caused a water transmission line failure that resulted in a water outage to all Asheville customers.
 This project is designed to better protect that from happening to our community again.
The project includes installation of 1,700 feet of 36-inch transmission waterline to existing 36-inch and 24 inch-transmission lines, adding a third major transmission line for water delivery. This project will enhance the City of Asheville's ability to provide water service to our customers under normal conditions and especially during extreme weather events. This project was approved by City Council on Feb. 12.
Related document:  North Fork Bridge Transmission Line Bypass staff report to City Council
Key September dates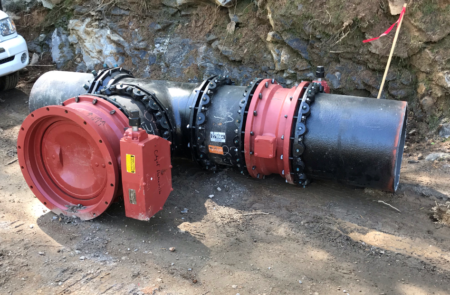 We would like to stress that the City of Asheville has been in compliance with all state and federal water quality requirements throughout this project and its installation process.
 In April and May, the project required the shutdown of the 24-inch waterline, transferring all waterflow to a 36-inch waterline. This final portion of the project involves a second tie-in for the 36-inch waterline. Again, the project will involve some brief system shutdowns. Here are the key installations:  
Week of September 9: Shift water flow from the 24-inch waterline to the 36-inch waterline. This to isolate and scour (flush) the 36-inch waterline.
Week of September 16: Shift of the North Fork Plant flow to the 24-inch waterline in preparation for the 36-inch tie-ins of the bypass waterline.  The 24" waterline will be scoured (flushed).
Week of September 23: Contractor will be performing both of the 36-inch tie-ins.  One is set for Sept. 23, and the second for Sept. 26. 
Proactive measures being taken
A certain amount of manganese is present in all surface water. The North Fork Water Treatment Plant filters it out as much as possible. Manganese sediment in pipes was responsible for discolored water during an emergency repair earlier this year.
During and after incidents of discolored water in the spring, Water Resources proactively worked in partnership with the N.C. Department of Environmental Quality (NCDEQ) to identify any additional measures that may mitigate discolored water.
Now additional measures are in place to reduce the potential for discolored water during installations or even when crews are repairing breaks in the 1,800 miles of waterlines the City of Asheville maintains.
To help mitigate sedimentation from pipes producing discolored water, Water Resources will "scour" pipes in advance of the installation and additional flushing measures designed to mitigate discoloration.
What is pipe "scouring?" Just what it sounds like. Scrubbing the inside of the pipes to rid them of sediment as thoroughly as possible.
How we are notifying customers
People in the immediate vicinity of this installation are being notified of an expected interruption in water service for a short period of time.
The City of Asheville is also doing extensive outreach to notify our entire customer base about these potential water discoloration impacts. Staff are reaching out:
       

Directly through an all-customer AVL Alert;

       

Through a press release to media outlets;

       

Through our social media and neighborhood network channels;

       

Direct phone calls to many organizations and businesses, including our school systems, hospital and Housing Authority; and
In addition, Customer Service phone lines will be open 24 hours a day, 828-251-1122.
You may see water flushing operations
Staff will be flushing waterlines at key locations, performing water quality sampling, and will respond to customers' needs as they arise. Communication updates will be provided throughout the process and be available online.                         
What to do if your water becomes discolored
We hope this doesn't happen and are actively working to lessen the chance of discolored water during these installations.
But if your water does become discolored, customers are advised to run cold water for 5-10 minutes or until water is clear. Once discolored water enters your house, the only way to remove it is to run your water until it is clear. It is best to limit hot water usage during discolored water events as this will limit the amount that will enter the water heater. If you do get discolored water in your heater,  running hot water will clear hot water heaters, which typically hold a large amount of water. If your water is discolored you may want to postpone washing laundry.
If your water does not clear within 30 minutes, you may want to call Customer Service at 828-251-1122.
We're here for you
 We'd like to remind everyone that City of Asheville water is scientifically tested multiple times a day to ensure safety for our community, a responsibility we take seriously.
We realize that people may still be concerned, following the discolored water that occurred earlier this year following an emergency water transmission repair. That's why the City is working to be proactive and transparent about the communication with our entire community about this project.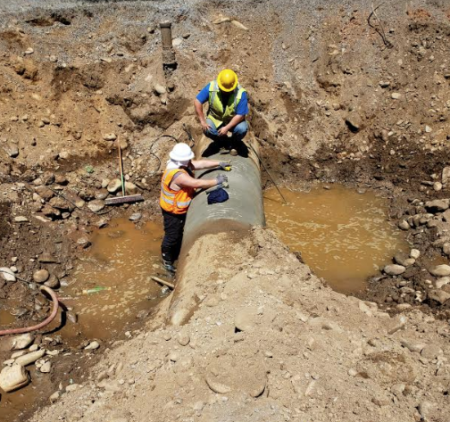 We'd also like everyone to know that Water Resources is instituting a pipe scouring schedule throughout the system to help cut down on sediment in our pipes and lessen the potential for future discolored water.
We're especially excited to note that at the conclusion of this water transmission bypass installation project, the City will have a better water system designed to enhance our ability to provide water service to our customers during major flooding events, and greatly lessening the possibility that there could be a system-wide interruption of service. We will be better protected as a community.
Resources