ITS team recognized in Artificial Intelligence and Augmented Humanity Category
for government meeting streaming
translation project
The City of Asheville has been named a finalist in the ninth annual Constellation SuperNova Awards. As digital transformation evolves across industries and geographies, organizations must make deeper investments to create real impact. This prestigious program recognizes teams and leaders for their innovative application of disruptive technology and transformative initiatives.
The City of Asheville was chosen as a leader in the Artificial Intelligence and Augmented Humanity Category for its solution to bring live public meetings to non-English speaking and hearing-impaired residents.
About Asheville's application:
Building inclusion through streaming translation
All are welcome to participate in City government but Asheville has a significant presence of individuals to whom English is either not spoken or is a second language. City Council Committee meetings are streamed live.  By coding with cutting edge and scalable Amazon Web Services microservices, live translation for Russian and Spanish will be available on the livestream, with an anticipated release date of Sept. 1. The project will make it possible for hearing-impaired and non-English speaking residents to participate in local government in a way that they've never been able to before.
Translation work has begun on archived video as well.  See an example here.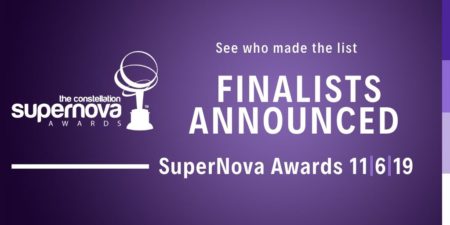 "As we enter a post-digital world, business transformation has emerged as both an art and a science," said R. "Ray" Wang, chairman and founder of Constellation Research. "The finalists selected for the 2019 SuperNova Awards represent individuals, teams and organizations who have pushed the limits of their culture, business model and technology to deliver on the art of the possible. What sets them apart is their ability to succeed at scale."
"This is a great example of how the right technology, aligned with City Council's equity goals, can create social good for under-served populations in our community," said Jonathan Feldman, Chief Information Officer for the City of Asheville. "Cost-effective and accurate translation services that rival human translation are great for tax-payers and our community."
The 2019 SuperNova Award judges, comprised of technology thought leaders and journalists, selected finalists who demonstrated success in implementing leading-edge business models and emerging technologies for their organizations. Finalists achieved remarkable results, including competitive advantage, cost savings and quantifiable improvements in agility.
How to vote for Asheville
Public voting for the SuperNova Awards will take place online from Aug. 19-Sept. 13. The winners will be announced at the SuperNova Awards Gala on Nov. 6 in Half Moon Bay, Calif., during Constellation's Connected Enterprise. Vote for Asheville's entry at this link.
For more information about the entries, visit https://www.constellationr.com/events/supernova/2019.
Or contact Asheville Chief Information Officer Jonathan Feldman at 828-259-5510 or jfeldman@ashevillenc.gov
About the City of Asheville
Asheville is the county seat of Buncombe County. It is the largest city in Western North Carolina, and the 12th-most populous city in North Carolina. The city's population was 89,121 according to 2016 estimates. It is the principal city in the five-county Asheville metropolitan area, with a population of 424,858 as of the 2010 census.
The City of Asheville is dedicated to providing quality service for the residents and visitors of our beautiful city, nestled in the Blue Ridge Mountains of Western North Carolina. Asheville is a thriving mountain city that has a culture enriched in diversity. The City of Asheville values and respects a diverse community, workforce and ideas, and is committed to promoting an equitable, fair, and just community environment.
About Constellation Research
Constellation Research is a technology research and advisory firm based in Silicon Valley. We deliver strategic guidance to companies seeking to transform their businesses through the early adoption of disruptive technology. Our analysts draw on their experiences as practitioners to deliver pragmatic advice to Chief Experience Officers leading digital transformation within their organizations. Clients include board of directors, C-suite executives, line-of-business leaders, and IT visionaries who are not afraid to challenge the status quo. Our mission is to conduct research on emerging technologies, identify and validate trends, and empower our clients to succeed in the digital economy.