The City of Asheville and Buncombe County will host a Memorial Day Ceremony at 2:00 p.m. May 29, 2023 at the Roger McGuire Green in Pack Square Park.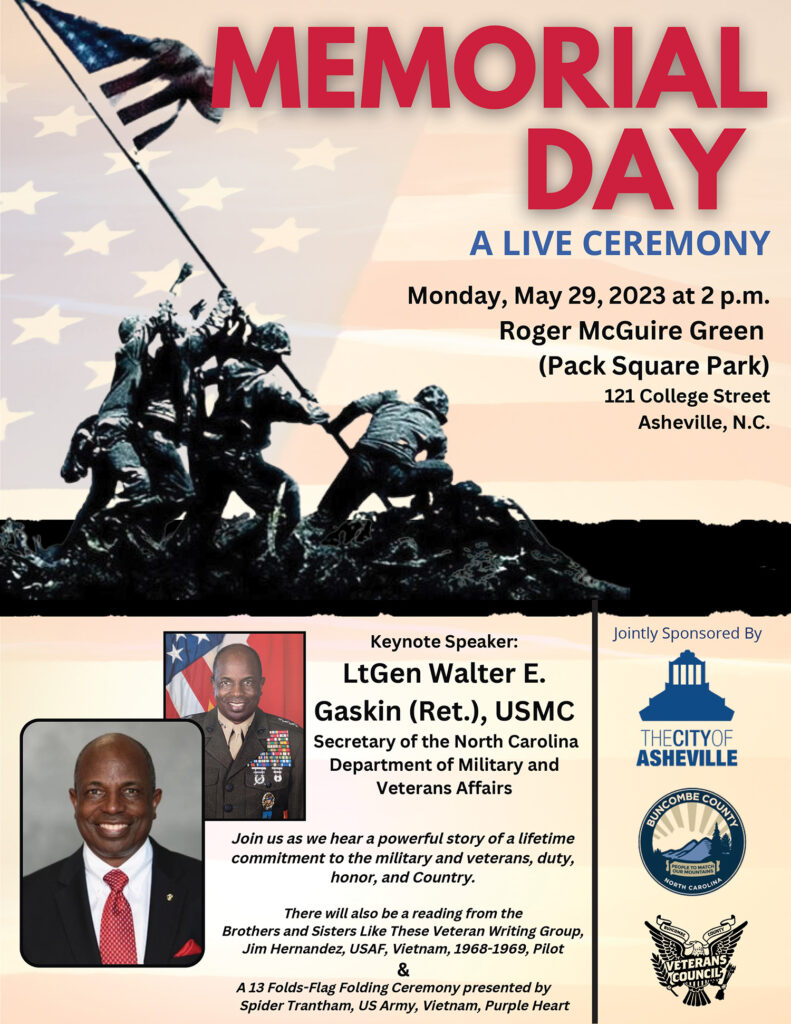 The ceremony will feature a short reading by Jim Hernandez, USAF, Vietnam, Pilot.
Lt. Gen. Walter E. Gaskin (Ret.), USMC, Secretary of the NC Department of Military and Veterans Affairs will give the keynote address.
The joint Asheville Police and Fire Department Honor Guard will present and retire the colors, and will escort Mayor Manheimer and Commission Chairman Newman in presenting a Memorial wreath in honor of the members of the Armed Forces who have sacrificed their lives in service to this country.
Bradley Parker,  Commandant, Asheville Marine Corps League Detachment 1417, will sing the National Anthem and perform Taps.
Additional ceremony participants include Stephanie Young, Director of the Charles George VA Medical Center, Ted Minnick, US Army Vietnam, Steve Henderson, US Marines, Vietnam.
Spider Trantham, Vietnam, Purple Heart, will perform the 13 Folds Flag-Folding Ceremony.
Allan Perkal, US Air Force, Vietnam, will be the Master of Ceremonies.
The public is also encouraged to attend a 10 a.m. May 29 Memorial Day Ceremony at the Western North Carolina State Veterans Cemetery, 962 Old US Highway 70, Black Mountain.