The City of Asheville will receive $3,000,000 to reshape Pack Square Plaza and the gateway to The Block as described in feedback collected through the Pack Square Visioning Project in 2022 and 2023. The funding comes from the Mellon Foundation's Monuments Project, a philanthropic "…commitment to give $250 million by 2025 to transform the nation's commemorative landscape through public projects that more completely and accurately represent the multiplicity and complexity of American stories."  
"We heard from our community that Pack Square Plaza was not everything it could be- and that sharing our stories – especially stories unsung, misunderstood, or not fully told, are at the heart of reshaping Pack Square into a more inclusive place. This partnership will allow us to take what we heard and repurpose this space in a way that reflects the needs and values of our community" said Debra Campbell, Asheville's City Manager.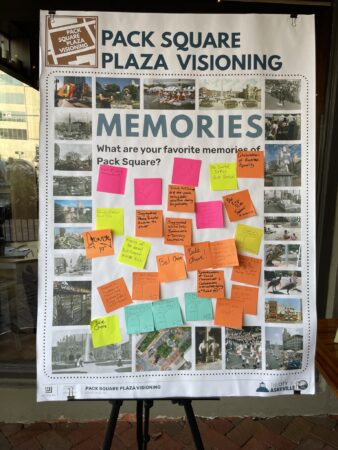 Funding will support the following priorities identified through public engagement:
Construction-ready plans for phased improvements to Pack Square Plaza that will better represent and include multicultural expressions, and make it a more welcoming, accessible and a safe place for all

Expanded storytelling and oral history programs to capture and share our diverse histories

The design and construction of stronger cultural and physical connections between Pack Square Plaza and The Block, the historic Black business district of East End Valley Street that sits adjacent to Pack Square Plaza  
Buncombe County, which partnered with the City on the Visioning Project, will continue working with the City and community partners to ensure the projects funded through the Mellon Foundation are a success. The draft Vision Plan from the Pack Square Plaza Visioning process will be released for public comment on July 21, 2023. In addition to being able to provide input online, several in-person public engagements will be planned for July 28 and July 29, 2023. The community can learn more about the grant funding at those meetings, the details for which will be announced soon, and posted on the project website.  The Pack Square Vision Plan will be presented to Asheville City Council on September 12, 2023. 
More Information: