Following two years of discussions and planning, Asheville Parks & Recreation (APR) is investing $200,000 in major repairs and renovations to Asheville Skatepark. Beginning with replacement of stairs and sections of damaged fencing along Cherry Street last year, new enhancements and additions to the upper plaza and skate bowls will allow the skatepark to function as it has always intended: a valuable community space for veteran skateboarders, skaters, and bikers, as well as those who are just getting started in these sports.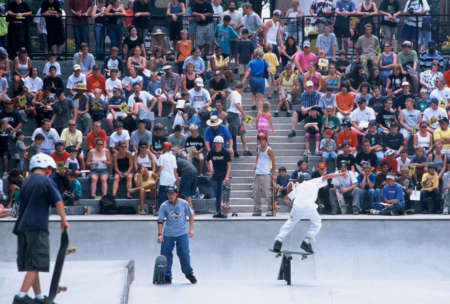 All sections of Asheville Skatepark will close for up to two months during the first phase of construction, scheduled to begin March 6. Following this phase, subsequent stages of work will take place in targeted sections of the park throughout summer. The neighborhood investment project should be completed in August. For more information and renderings, visit the Asheville Skatepark project page.
"While skateboarding started in empty swimming pools and drainage beds, local skateboarders have a fierce sense of ownership of Asheville Skatepark and want everything about it – the bowls, artwork, and plazas – to reflect them," according to D. Tyrell McGirt, APR Director. "The collective skateboarding, roller skating, and BMX biking community is like a big family with advanced users often mentoring newbies by giving them tips to help develop their talents. While the park will be closed for a few weeks, it will reopen as a reimagined space with better flow and access for simultaneous users, as well as more space for spectators who want to watch homegrown talent."
In addition to changing the concrete landscape, the much-loved space will also receive new art to bring it to life. Through a partnership with the nonprofit Asheville Skate Foundation, wall murals by artists collaborating with the skate community will add stylistic distinction and reflect local skate culture.
While Asheville Skatepark is closed, community members are encouraged to visit other public skateparks in western North Carolina, including:
Carver Skatepark, 101 Carver Ave. in Black Mountain

Cherokee Skate Park, 1108 Acquoni Rd. in Cherokee

Highlands Skate Park, 600 N. Fourth St. in Highlands

McDowell County Skate Park, W. Court St. and Academy St. in Marion

Morganton Skatepark, 300 Collett St. in Morganton

Patton Skate Park, 114 E. Clairmont Dr. in Hendersonville

Sports Complex SkatePark, 324 Ecusta Rd. in Brevard

Tannery Skate Park, 200 Silversteen Dr. in Brevard

Waynesville Skatepark, 550 Vance St. in Waynesville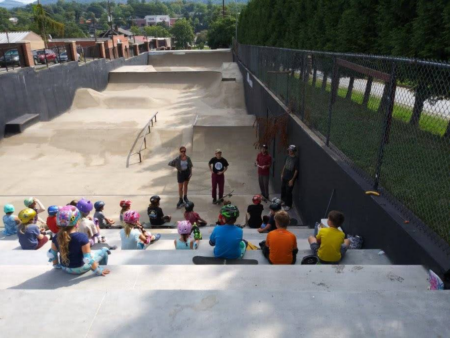 Asheville Skatepark
North Carolina's first concrete skatepark opened near Asheville's city center more than 20 years ago fueled by grassroots efforts and a growing sense that safe, low-cost places to have fun and exercise should not be limited to playgrounds, community centers, ballfields, and sport courts. Before this unique course was constructed, community members and APR actually installed temporary ramps and tracks on the top floor of the Civic Center parking deck – eight stories above the ground!
Opened in 2000, the facility featured a beginner bowl, intermediate street course, and advanced vertical drop, as well as a staffed admission area and concessions. Following damages in 2014, the building was no longer staffed and was ultimately demolished to create more skateable space in 2020. As with many neighborhood investment projects, that change sparked a larger conversation within the community about the future of Asheville Skatepark (which had not seen significant upgrades since it was built).
In March 2021, APR staff began meeting with skateboarders, roller skaters, bikers, skate shop owners, and Asheville Skate Foundation to discuss reimagining the space and the possibility of new rideable art and ramps in the open plaza where the previous building was located. The ultimate goal is a safer, enhanced Asheville Skatepark welcoming to families, new skaters and bikers, veteran users, and community members who want to watch homegrown talent.
Asheville Parks & Recreation
Established in 1956, Asheville Parks & Recreation manages a unique collection of more than 65 public parks, playgrounds, and open spaces throughout the city in a system that also includes full-complex recreation centers, swimming pools, Riverside Cemetery, sports fields and courts, and community centers that offer a variety of wellness-, education-, and culture-related programs for Ashevillians of all ages. With 10 miles of paved greenways and numerous natural surface trails, its complete portfolio acts as the foundation of a vibrant hub for the people of Asheville to connect with their neighbors and explore the natural beauty of a livable and walkable city.
Driven by the promise that Asheville is a better and safer place when everyone from infants to retirees has the opportunity to be supported, healthy, and successful, Asheville Parks & Recreation was the first nationally-accredited municipal recreation department in the United States. For the latest updates, follow the department on Facebook @aprca and Instagram @ashevilleparksandrecreation or visit  www.ashevillenc.gov/parks.