With the holidays around the corner, the City of Asheville is excited to promote several festive events around town that encourage families to enjoy the winter season while eating, shopping and celebrating the holidays in the city's business districts.
Santa and Mrs. Claus will arrive in Asheville Nov. 22 for the kick off of the Downtown Local Lights display and for free photos from 5 to 7 p.m. in Pack Square. There will also be arts and crafts with the LEAF Easel Rider before the lighting ceremony at 6 p.m. 
On Nov. 23, the Asheville Downtown Association will host the 73rd Annual Holiday Parade from 11 a.m. to 1 p.m. along Biltmore Avenue to Pack Square, then along Patton Avenue to French Broad Avenue. 
The Downtown Local Lights program is a partnership with the N.C. Arboretum's Winter Lights, the Asheville Downtown Association and the Buncombe County Tourism Development Authority. The beloved lighted starflake will again be featured in Pack Square and there will be an expanded lighting display in Pritchard Park will highlight the large sugar maple tree, both thanks to the Asheville Downtown Association's continued and increasing investment in the Downtown Local Lights program.
Biltmore Park Town Square will celebrate the magic of the holidays on Nov. 30 with festivities beginning at 2:30 p.m. throughout Town Square, culminating with a 6 p.m. tree lighting. Family fun will include horse-drawn carriage rides, craft activities, face painting, refreshments and  more. 
At 6 p.m. Dec. 6, the Historic Biltmore Village Merchants Association will host the 31st Annual Dickens Christmas Celebration on the Village Green, featuring live music and entertainment, the Mugs of Merriment Hot Chocolate Competition, and a festive tree- and street-lighting at sundown. Holiday lighting on display for the Biltmore Village Local Lights program is also in partnership with the N.C. Arboretum and Buncombe County Tourism Development Authority.
Holiday Parade closings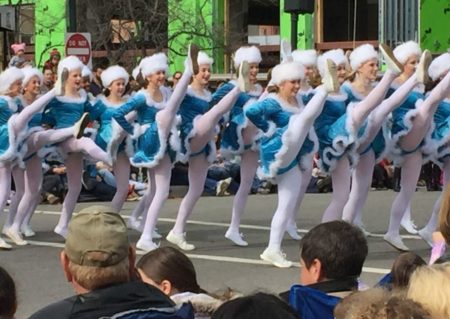 The Asheville Downtown Association hosts the 73rd Annual Holiday Parade from 11 a.m. to 1 p.m. Nov. 23. The parade route runs up Biltmore Avenue to Pack Square, then along Patton Avenue to French Broad Avenue. 
Street closings associated with the parade are as follows:
South Charlotte will close at 7 a.m. Nov. 23 for parade entries and lineup. 

Pack Square (the streets of North and South Pack Square) will also close at 7 a.m. for installation of WLOS news cameras, hosts, parade judges, sponsor stands and food vendors.

The parade route along Biltmore and Patton will fully close at 9:30 a.m. and remain closed until the end of the parade. 
Some side streets need to be closed off as well. See a list of street closings here. Please note that there is no parking along the parade route on Nov. 23 until the streets reopen. Towing will be enforced. 
Parking tips
Remember to check in at the City parking garages for available spots on your smartphone by accessing the Asheville App or the Find Parking webpage that shows how many spots are available in City parking garages, in real time. As always, the first hour of parking in a City parking garage is free of charge.
ART bus detours
ART bus routes have to be detoured around the parade as well. For these reasons, the City encourages everyone to plan ahead and allow plenty of time to get downtown, whether by bus, bike, car or on foot.
The City of Asheville's ART bus service (Asheville Rides Transit) will detour due to road closures for the annual Holiday Parade through 3 p.m. The following routes will be affected by detours:
NORTH: N, N1, N2 and N3
EAST: E1, E2 and 170
SOUTH: S1, S2 and S5
WEST: W3, W4 and S5
Use the City's new Transit app to help plan your trip and track when your bus will arrive. To better understand the detours the buses will take, visit ashevillenc.gov/Transit/ServiceAlerts  or www.RideTheArt.com. Or call ART at 828-251-5691.