After more than three years of community engagement around the future use of City-owned properties on Haywood Street and Page Avenue downtown, a master concept plan for the properties went before Asheville City Council Oct. 27.
The plan by Nelson Byrd Woltz Landscape Architects incorporates a mix of uses, including: 
A central plaza for community gatherings and special events;

A multi-story mixed-use building;

Community garden space adjacent to a rentable kiosk; 

An active alleyway with market stalls between Haywood and Page; and 

A flexible seating area under a grove of trees along Page Avenue. 

Public art could be incorporated, along with cultural or historical markers. 
The plan includes other streetscape improvements adjacent to the subject site, including across the street at the Harrah's Cherokee Center and Basilica of Saint Lawrence, as well as a realignment of Page Avenue. 
City Council voted to approve the plan, presented by Strategic Development Program Director Stephanie Monson Dahl along with the Nelson Byrd Woltz design team.
How the master concept plan will be used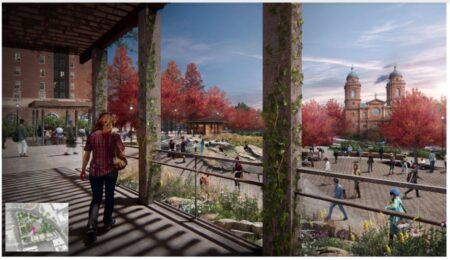 The Haywood Page Master Concept Plan is just that — an overarching document informed by public consensus designed to serve as a guide for future development. It was crafted through a collaborative process with the community and provides clear guidance on how the community would like this site to be redeveloped in the future. 
Implementation of the master concept plan will happen at a later date. City Council may consider an implementation plan for the Haywood Page Master Concept Plan in 2021.
Where to get more information
To view the powerpoint presentation to Council on the plan, visit this link. You can read the staff report to Council, including the resolution to adopt the plan at this link. Keep up with this project on this webpage on the City of Asheville website. This project landing page contains a history of the project as well as an economic analysis and many related documents.