The City of Asheville and Buncombe County are documenting the community's vision for a more equitable, accessible, and inclusive Pack Square Plaza,  a social and economic hub for the region. 
You have been participating online and by attending community events to give us your ideas. Now check out the results!
Ideas generated by the community can be seen in this draft vision document which is open for public comment before it goes before City Council as a presentation in September.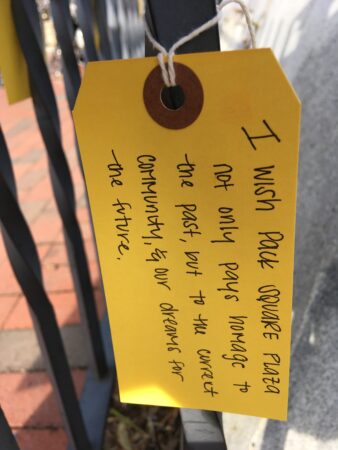 How can the Community Comment?
Online:  Comment on the plan through a short survey. The survey will be open through 8/21/2023. 
In -Person: Attend these special events:
Friday, July 28, 2023
Creating a Richer History about the Heart of our Downtown
10 – 11 a.m. at City Hall 1st Fl. Conference Room (70 Court Plaza)
Presentation and Discussion with Katherine Cutshall, Buncombe County Special Collections Manager
         
 Reshaping Pack Sq. Plaza and Connecting The Block through Design
12 – 3 p.m. at the Municipal Building 4th Floor Training Room (100 Court Plaza)
Drop-in to review and discuss the ten design recommendations proposed in the Vision Plan
Saturday, July 29, 2023 
The Vision for a More Inclusive Pack Sq. Plaza: Presentation and Discussion
12 – 2 p.m. Harrah's Cherokee Center Asheville (87 Haywood Street)
A Conversation about Pack Sq. Plaza and the Value of Public Space with Mitchell Silver
Next Steps
A Special meeting for the Community Advisory Committee and Downtown Commission to review the plan is being scheduled.
The Planning and Economic Development Committee of City Council will hear a presentation on August 14, 2023

public comment can be made at that meeting.
The Committee will decide whether or not the plan is ready for Council consideration on September 12, 2023. 
 
Get you Neighborhood or community organization involved:
City and County staff are available to present and discuss the plan with your community organization between July 24- and August 11, 2023. Email sdahl@ashevillenc.gov with a request to speak/attend a meeting.