The Asheville Police Department is an equal opportunity employer that does not discriminate in employment or the provision of services based on race, color, creed, religion, national origin, age, disability, sexual orientation, gender (including pregnancy), gender identity, or expression or familial status.
Visit our recruitment website – joinashevillepd.com.
Apply for open positions here.
---
Employee Benefits and Position Information
Starting basic salary for Police Officer Trainees is $42,548.00. Upon completion of the academy and obtaining certification from the state, salary will increase to $45,856.00. For the next 3 years, the salary will be raised per city council approval. After 3 years of service as a police officer, officers advance to Senior Police Officer and are paid a salary of $49,9164.00.
All police department employees, sworn and civilian, are offered the following benefits: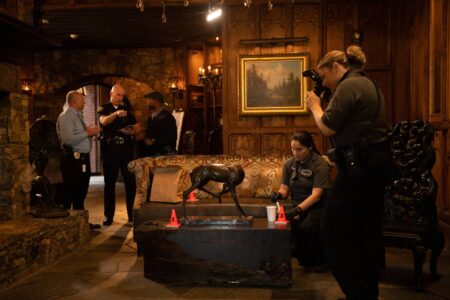 Pre-tax hiring bonus of $5,000 for new lateral Police Officers and $3,500 for new Police Officer Trainees. The bonus will be paid in three equal payments at hire, at 6 months, and after 1 year.
Get paid while attending Basic Law Enforcement Training (BLET).
Relocation assistance may be available.
Retirement program through the NC Local Government Employees' Retirement System (LGERS). The City of Asheville also provides a 401K plan with employer contributions. Sworn officers receive an additional law enforcement retirement supplement through the LGERS system.
Mentoring and peer support for new hires.
Tuition reimbursement for qualifying courses of study.
Health, dental, and life insurance.
Incentive pay for:

Education (sworn and civilian positions)

1.5% for an Associate's Degree
3% for a Bachelor's Degree
5% for a Master's Degree

3% for Foreign language (sworn and civilian positions)
Night-shift differential ($0.75/hour for sworn and civilian positions)
Senior Police Officer status – $3,307.76
5% for Advanced Law Enforcement Certificates (sworn only)

Sworn lateral transfers will be provided with a balance of 5 vacation days upon hire.
3%or a Specialty Unit (Crisis Negotiation Team, Emergency Response Team, Bicycle Response, Crowd Control Team, Hazardous Device Team)
On-call pay $20/day
$1,000 yearly uniform stipend
Here is an example of a Police Officer Trainee's salary:
Base pay: $42,548.75
Foreign Language: $1,276.46
Bachelor's Degree: $1,276.46
Total Salary: $45,101.67
Here is an example of a lateral transfer officer's salary (NC state certified):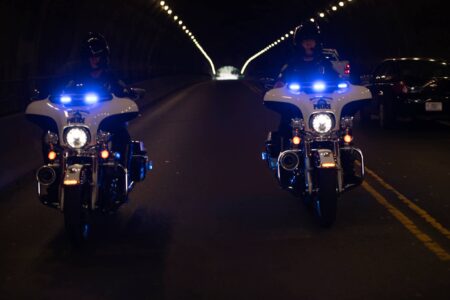 Base pay: $49,164
Yearly uniform allowance: $1,000
Bachelor's Degree: $1,474.92
Specialty Team Pay: $1,474.92
Foreign Language: $1,474.92
NC Advanced Law Enforcement Certification: $2,458.20
Total Salary: $57,046.76
Most non-probationary police officers have the option of taking a department vehicle home. Take-home cars are assigned by availability and seniority.
Additional information on employee benefits is available through the City of Asheville Human Resources Department.
Asheville Police Department Pay Plan
---
Patrol Officer Schedule
Patrol officers work non-rotating twelve-hour day or night work shifts with every other weekend off. Hours may vary for administrative or specialty assignments.
---
Specialized Units
The department has a number of specialty teams and positions for sworn officers, including but not limited to: Hazardous Devices Team (Bomb Squad), Emergency Response Team (SWAT), Crisis Negotiation Team (Hostage Negotiators), Motor (motorcycle) Unit, School Resource Unit, Impact Team, investigative task force officers, and canine officers. Specialized positions typically require 1-3 years of experience as a non-probationary officer for application.
---
Minimum Qualifications and Automatic Disqualifiers
Complete qualifications and automatic disqualifiers will be listed in the job posting.
To meet the minimum qualifications to be a police officer, applicants must:
Be 20 years of age at the time of application
Be a citizen of the United States
Have a high school diploma or GED
Have no felony convictions or serious misdemeanor convictions in the past five years, which includes:

Any crime for which the punishment could have been more than 2 years
A crime or unlawful act defined as a Class B Misdemeanor within the last 10 years
2 or more crimes or unlawful acts defined as Class A Misdemeanor within the last 5 years
A DUI or DWI within the last ten years

Pass a physical fitness test and the Police Officer Physical Agility Test (POPAT)
Meet vision, hearing, and other physical requirements
Possess a valid driver's license with no suspensions of driving privileges in the past three years
Satisfactorily pass a background investigation, polygraph examination, psychological evaluation, and drug screen
Automatic disqualifiers for the position of police officer or police officer trainee include:
Illegal selling or distribution of any drug
Any use of hard illegal drugs such as methamphetamine, cocaine, LSD, or heroin within the past 2 years
Candidates applying for a certified law enforcement position (lateral entry) must meet all requirements for non-certified applicants, possess a valid law enforcement certification from the North Carolina Law Enforcement Training and Standards Commission, and must have been employed as a law enforcement officer in good standing in the State of North Carolina within the last twelve months.
Out-of-state candidates who have been employed as full-time law enforcement officers will be evaluated on a case-by-case basis to determine whether or not they must complete North Carolina Basic Law Enforcement Training (BLET). Out-of-state candidates are encouraged to contact the Recruitment and Career Development Section at apdrecruitment@ashevillenc.gov for further information.
---
Application and Hiring Process
The hiring process with the department may take between 90 to 120 days to complete. The following steps are part of the hiring process:
Pre-employment testing (police officer trainees/telecommunicators only)
Physical fitness testing (police officers only)
Panel interview
One-on-one interview
Health assessment (police officers only)
Background investigation, including a polygraph examination
Psychological evaluation (police officers only)
Drug screen
---
Physical Fitness Requirements for Police Officer Positions
Pre-employment Physical Fitness Test
Candidates for the position of police officer trainee must pass a physical fitness test consisting of push-ups, sit-ups, a 300-meter sprint, and a 1.5-mile run. This test is part of the hiring process.
Police Officer Physical Agility Test (POPAT)
Passing the POPAT is a requirement by the State of North Carolina to become a certified law enforcement officer. Police Officer Trainees will have to complete this test at the end of their basic law enforcement training. If cadets do not pass this physical examination, they are not eligible to become an officer.
Basic Law Enforcement Training
Candidates selected for the position of Police Officer Trainee must complete basic law enforcement training (BLET) to be certified as a police officer. The department sends police trainees to the Asheville-Buncombe Technical Community College (A-B Tech) BLET academy. The academy is 18-20 weeks long and covers 34 blocks of instruction. APD cadets are paid as full-time employees of the City of Asheville while attending the academy. Health insurance benefits begin on the first day of the month following your start date.
---
Frequently Asked Questions
Is there an age limit to be a police officer?
Applicants must be at least 20 years old before completion of the academy and be able to complete all essential job functions.
I don't live in North Carolina. Can I do the police officer testing in one or two trips?
Yes, as an out-of-state applicant, you can expect to make a minimum of two 2-3 day trips for the entire process.
Can I work a part-time job or continue my education while in the academy?
No, the academy is challenging academically, mentally, and physically.
Do I have to live in Asheville?
If you are hired as a police officer, you do not have to live within the city limits, but you are required to live within a 30-mile radius of the City Hall complex (60 Court Plaza in Asheville).
I have tattoos. Is that okay?
Yes, the department permits the display of tattoos while on duty with a few stipulations:
Tattoos, branding, or intentional scarring

are not

permitted on the face, neck, ears, scalp, or hands. There is an exception for natural-looking permanent makeup and wedding band tattoos similar in size to a ring. 

Tattoos, branding, or intentional scarring that are gang-related, that convey sexual, racial, religious, ethnic, or related intolerances, or that portray derogatory or offensive characterizations contrary to the department's values are prohibited.

Tattoos that would be visible while on duty cannot be offensive, obscene, or otherwise inappropriate.
---
Contact Information
For additional information or questions regarding employment opportunities at the Asheville Police Department, please contact:
Recruitment & Career Development
828-273-2144