Happening Now
Over 6,700 people completed the Plastic Reduction Community survey. City Staff are currently reviewing and analyzing data collected through resident and business responses.  This input will inform City Staff's recommendation to City Council in the fall. 
---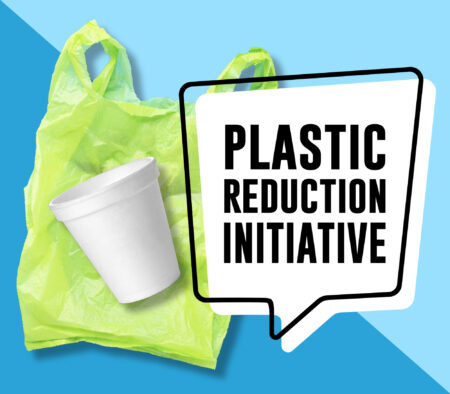 Biodegradable or reusable containers required for brush and leaf pickup
To support our community's transition to biodegradable or reusable leaf containers which was in effect as of August 1, 2023, information and resources are available on the City's Sanitation website.  Check out this image to better understand acceptable containers for disposing of your leaves curbside!

To follow updates on plastic reduction, please subscribe on Public Input. Questions about the initiative? Please check out our Plastics FAQ document!
---
Background
It is the City of Asheville's mission to create a thriving local economy and a clean, healthy environment. Community cleanliness has been identified by City Council as an area of concern and is encompassed in their FY23 strategic priority to improve core services. Single-use plastic products pose a serious threat to public health and the local environment. In 2022, Plastic Free WNC, a coalition of organizations and community advocates including MountainTrue, Sierra Club and NC Public Interest Research Group, gathered data on the impact of plastic bags and disposable foodware products on the natural environment, and conducted preliminary stakeholder engagement. In July 2022, this information and a proposed ordinance was presented to the Sustainability Advisory Committee (SAC), who recommended City Council take action to reduce single-use plastic consumption.
In October 2022, Asheville City Council directed the Sustainability Department to take a phased approach to reduce the consumption of single-use plastic. The first phase included an update to Chapter 15 of the City Code to prohibit the use of plastic bags in curbside brush and leaf collection. This ordinance change was approved by City Council on January 10 and will be implemented August 1, 2023.
The second phase includes further analysis and stakeholder engagement to inform a recommendation on additional single-use plastic reduction strategies surrounding plastic bags at point of sale and expanded polystyrene (StyrofoamTM) disposable foodware products.
In December and January 2023 staff conducted internal focus groups and a city staff survey alongside research to study sanitation services related to the disposal of single-use plastic and potential impacts. Staff utilized initial input from community partners, cross departmental engagement and research to develop robust external community stakeholder engagement and to identify areas for further study. Residential and business stakeholder engagement conducted in the Spring and Summer of 2023 will inform a phase 2 recommendation to City Council in the Fall of 2023.
---
Timeline
Actions Taken
July 2018 – Paper bags introduced for curbside brush and leaf collection. Annual outreach and education campaigns conducted from 2018 – present
July 2022 – Sustainability Advisory Committee on Energy and the Environment voted 7-0 to support prohibition of plastic bags in curbside brush and leaf collection and voted 5-2 to support ban on single-use plastic bags and expanded polystyrene disposable foodware containers at point of sale
October 2022
City Council directed staff to draft a revision to Chapter 15 prohibiting the use of plastic bags in curbside brush and leaf collection
City Council directed staff to conduct robust internal and external stakeholder engagement and data analysis to inform a recommendation on single-use plastic reduction
November 2022 – Initiated internal engagement on operational impacts
January 2023 – City Council approved to update City Code Chapter 15 to prohibit the use of plastic bags in curbside brush and leaf collection
February 2023 – Provided an update to the Environment & Safety Committee on initial findings from internal engagement and data collection and analysis of sanitation services in regards to plastic bags and disposable foodware products
March/April 2023
Collected Input from Asheville residents and business owners through public input survey
Distributed paper leaf/brush bags to City residents
May – August 2023
Reviewed initial survey responses and refined engagement, identified gaps in process to date, and developed strategies for further engagement
Deployed customized engagement strategies
Revision to Chapter 15 (prohibition of plastic bags for curbside brush and leaf collection) implemented
Fall 2023
Present summary of findings from year of engagement, analysis and research 
Recommendation from staff to City Council on next steps for single-use plastic reduction
---
Supporting Documents
---
Contact Information
Kiera Bulan, Sustainability Program Manager
kbulan@ashevillenc.gov
---