Happening Now
April was Food Waste Reduction Month, but we're committed year round!
Check out the Food Waste Reduction Month Proclamation.
If you missed the #AVLFoodWasteChallenge don't fret, you can always conduct a home food waste audit and share your observations with your friends and the local food waste community!
In July 2020 the Office of Sustainability was selected to participate in the Natural Resources Defense Council's Food Matters Regional Initiative Southeastern cohort alongside Atlanta, Memphis, Nashville, and Orlando. This project aims to build a foundation for organizing and expanding the City of Asheville's food waste reduction initiatives in partnership with key community stakeholders. Through this initiative, the Office of Sustainability is exploring food waste strategies at city facilities, supporting community coalition building and strengthening the visibility of the community food waste reduction efforts.
Look for the "Save the Food Asheville" logo on sanitation trucks, social media and popping up around town as we collaborate with community partners to share tips and tricks to keep food out of the landfill. Keep up to date on campaign activities, events and resources by following @wncfoodwaste on social media and checking out the Food Waste Solutions WNC website HERE.
Reducing food waste is as easy as 1, 2, 3 (4!) – join the fun!
Have a cooking tip, photo of your compost bin or other resources to share? Use hashtag #savethefoodavl and #savethefoodwnc to keep the conversation going!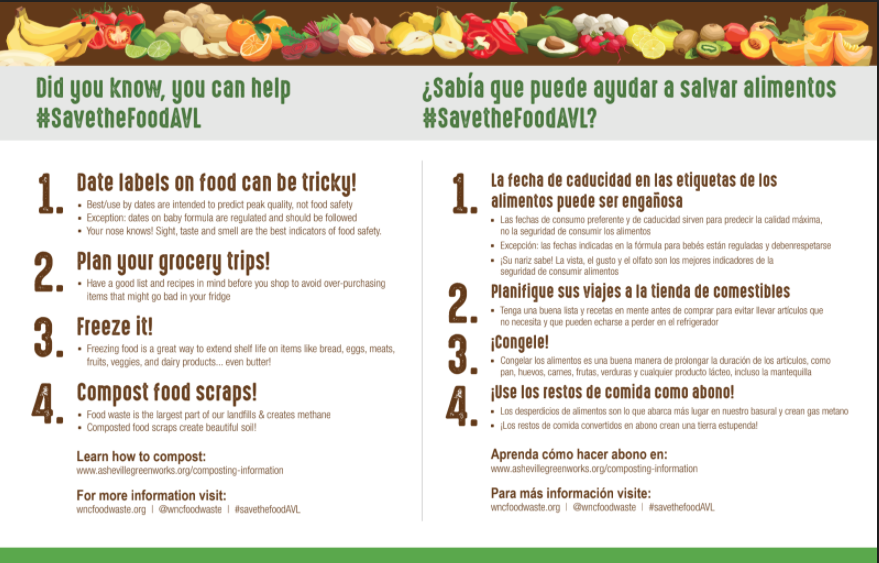 ---
Background
In 2017 Asheville City Council adopted a revised Food Policy Action Plan. Resolution 17-257 identified Resource Stewardship as a focus area with an objective to "create an actionable plan for city food waste recovery, composting and redistribution".
Up to 40 percent of food in the United States is wasted contributing to extensive environmental, economic and societal impacts. Up to 400 pounds of food per person is wasted annually with a family of four spending at least $1,800/year on wasted food. Here in Buncombe County an estimated 57,500 tons of food is wasted annually. This is food that could feed our neighbors, dollars that could otherwise circulate in our local economies, and landfill space dedicated to unnecessary waste.
The Food Waste Reduction Initiative aims to provide useful information and tips to residents seeking ways to reduce their household food waste, pilot opportunities for community compost drop sites, elevate the message of food waste reduction, and model food waste reduction initiatives in city facilities.
---
Timeline
January-March 2021

Food Waste Prevention Month Proclamation

Public Education campaign on Food waste

April – June 2020

Conduct food waste snapshot audits at city facilities, publish results

Launch community composting site
---
Resources
City of Asheville Sanitation Division – information on recycling and waste reduction initiatives 
Food Waste Solutions WNC – community network including tips, tricks, and local resources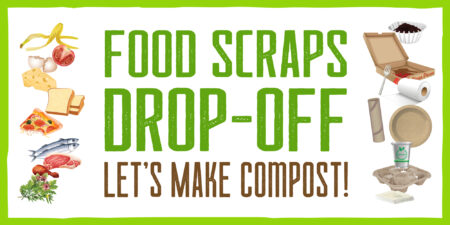 ---
Supporting Documents
Food Waste Reduction Month Proclamation
Resolution 20-25 Climate Emergency Declaration 
Resolution 11-77 Establishing 4% CO2 Reduction Goal 
Resolution 14-27 Waste Reduction Goal and Benchmarks
Resolution 17-257 Food Policy Action Plan
---
Contact Information
Kiera Bulan, Sustainability Coordinator
---