Happening Now
April was Food Waste Reduction Month, but we're committed year round!
At the April 11, 2023 meeting, April was proclaimed "Food Waste Reduction Month" by Asheville City Council. Read the proclamation here.
Check out these great resources to participate in Food Waste activities this month and all year long! Conduct a home food waste audit and share your observations with your friends and the local food waste community or play a game of food waste bingo! Keep and eye on Food Waste Solutions WNC's website and @wncfoodwaste social media for fun community challenges, events and prizes to reduce food waste this April!
Register for Food Waste Drop-off Program to keep your food scraps and organics out of the landfill. Learn more and register on the City of Asheville's Composting webpage.
Look for the "Save the Food Asheville" logo on sanitation trucks, social media and popping up around town as we collaborate with community partners to share tips and tricks to keep food out of the landfill. 
Reducing food waste is as easy as 1, 2, 3 (4!) – join the fun!
Have a cooking tip, photo of your compost bin or other resources to share? Use hashtag #savethefoodavl and #savethefoodwnc to keep the conversation going!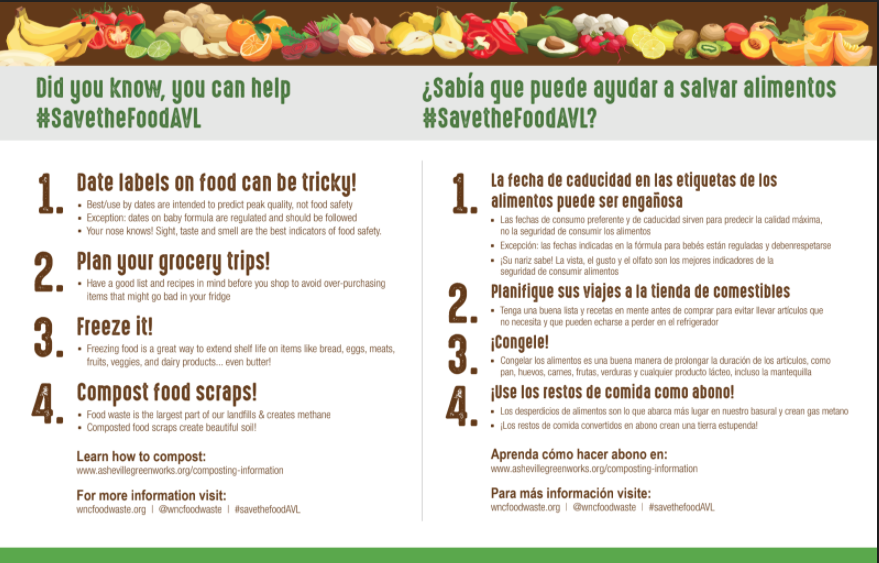 ---
Background
In 2017 Asheville City Council adopted a revised Food Policy Action Plan. Resolution 17-257 identified Resource Stewardship as a focus area with an objective to "create an actionable plan for city food waste recovery, composting and redistribution".
Up to 40 percent of food in the United States is wasted contributing to extensive environmental, economic and societal impacts. Up to 400 pounds of food per person is wasted annually with a family of four spending at least $1,800/year on wasted food. Here in Buncombe County an estimated 57,500 tons of food is wasted annually. This is food that could feed our neighbors, dollars that could otherwise circulate in our local economies, and landfill space dedicated to unnecessary waste.
The Food Waste Reduction Initiative aims to provide useful information and tips to residents seeking ways to reduce their household food waste, pilot opportunities for community compost drop sites, elevate the message of food waste reduction, and model food waste reduction initiatives in city facilities.
---
Timeline
2017 – City of Asheville sponsored inaugural Food Waste Summit at Warren Wilson College

2018 – 

WNC Food Waste Solutions

Network initiated, hosted 1/4ly education and networking events 

2019 – City of Asheville sponsored and participated as a planning member of the second Food Waste Solutions Summit at UNC Asheville

2020 – City of Asheville selected to participate in Southeast Regional Cohort of the Natural Resource Defense Council's Food Matters initiative

Launched Food Waste Reduction Initiative with 4 key strategy areas (public proclamation, compost, community engagement and education campaign, food waste audit)

2021 

First Food Waste Reduction Month proclamation issued via Asheville City Council April, 2021

Food Scraps Drop-Off pilot program launched

Conducted food waste snapshot audits at recreation and administration facilities

Launched public food waste prevention education campaign

2022

Food Waste REduction Month proclamation issued via Buncombe County

Food Scraps Drop-Off program expanded to 3 additional sites

Hosted Taste it Don't Waste it Chef competition

2023 – Food Waste Reduction Month updated

proclamation

issued via City Council April, 2023
---
Resources
City of Asheville Sanitation Division – information on recycling and waste reduction initiatives 
Food Waste Solutions WNC – community network including tips, tricks, and local resources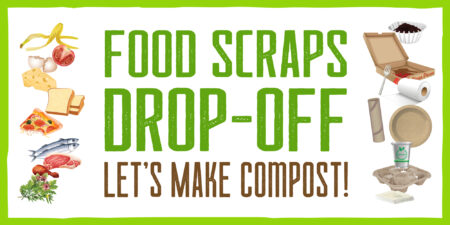 ---
Supporting Documents
Food Waste Reduction Month Proclamation
Resolution 20-25 Climate Emergency Declaration 
Resolution 11-77 Establishing 4% CO2 Reduction Goal 
Resolution 14-27 Waste Reduction Goal and Benchmarks
Resolution 17-257 Food Policy Action Plan
---
Contact Information
Kiera Bulan, Sustainability Coordinator
---