With heavy hearts, the WNC Nature Center is sad to report the loss of Becca and Curly, our two white-tailed deer, last week. They were found in the early morning, and though there are still some unanswered questions, it would appear that a wild black bear entered their exhibit, and either directly or indirectly caused their passing.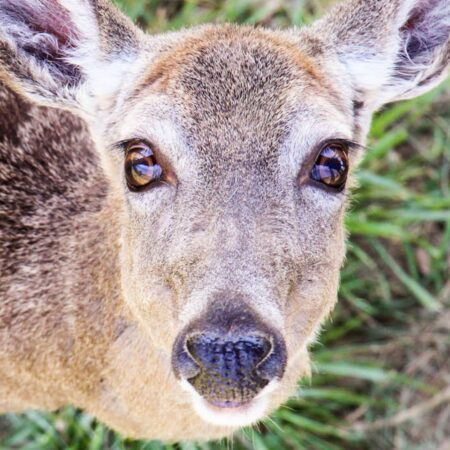 The safety of guests, volunteers, staff, and animals is of utmost importance, and the WNC Nature Center has strict safety measures and protocols in place whenever wild animals are seen in or around the park. Since the Nature Center's opening, we have shared the park with wild black bears without incident.
"This was an unfortunate accident that has never before occurred within our animal collection," shared Nature Center Director Chris Gentile. "While it's a rare occurrence for something like this to happen, our Animal Care and Maintenance Teams have taken additional measures to dissuade and deter wild animals from entering our animal exhibits." 
More About Becca and Curly
Becca was born in the summer of 2013 and was brought to the Nature Center as a fawn because she was too young to survive on her own. In 2017, she gained celebrity after starring in the Oscar-winning movie Three Billboards Outside Ebbing, Missouri (Fox Searchlight), where she was trained by Nature Center staff to stand in front of a bluescreen. That footage was edited into the final production with her co-star, Frances McDormand. 
In the summer of 2020, Curly joined Becca at the WNC Nature Center. He was born in 2012 and was kept illegally as a pet when he was a young fawn, so he was imprinted on humans. Both of the white-tailed deer at the Nature Center were gentle, curious, and loved by guests and staff. 
Wild Black Bear Safety
Western North Carolina is home to an abundance of wild black bears, with representatives from the NC Wildlife Resources Commission estimating about 8,000 bears in the area. "Wild bears are opportunistic creatures. Don't leave food out, and make sure your garbage is secure," says Gentile. More resources for living responsibly with black bears can be found at www.bearwise.org.
The WNC Nature Center connects people of all ages with the plants and animals of the Southern Appalachian Mountains. Asheville's wildlife park is located on 42 acres at 75 Gashes Creek Road and is home to more than 60 species of animals, including red pandas, river otters, black bears, and red and gray wolves. For more information, please visit www.wildwnc.org.