Mountain families have a chance to get an up-close look at big trucks, small trucks, transit buses, construction vehicles, and more when Asheville Parks & Recreation's Truck City AVL returns to Asheville Outlets on April 9 from 1-4 p.m. Kids and adults can explore, touch, and ask questions about their favorite trucks and cars in one place at this free community event.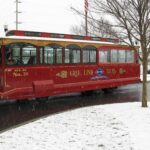 "From rescue vehicles and public works equipment to utility tractors and construction machines, community members have an excellent opportunity to 'pull back the curtain' and learn about the equipment and skills required to maintain our cities and towns, and public safety systems," according to Kyle Autry, Asheville Parks & Recreation Facility Manager. "With over 30 vehicles, be sure to plan plenty of time to explore the trucks of all shapes and sizes."
The City of Asheville's Fire, Parks & Recreation, Police, and Public Works departments plan to showcase several vehicles including a sweeper, excavators, and sanitation trucks. Other unique vehicles include The North Carolina Arboretum's natural gas dump truck, North Carolina Wildlife Resources Commission's fish stocking truck, Buncombe County's emergency medical services vehicle, Blue Ridge Parkway's ranger truck, and Metropolitan Sewerage District's sewer cleaner will also be on-site, among others.
After taking a two-year break during the COVID-19 pandemic, Truck City AVL has made some changes this year. Most exciting for Autry is the addition of a quiet hour from 1-2 p.m.
"Many of the kids like to honk horns when they get behind the wheel of a vehicle," he says. "It starts a domino effect with dozens of horns going off at the same time. The quiet hour provides a positive experience for those with autism, dementia, PTSD, hyposensitivity, and other sensory considerations."
In addition to the trucks and vehicles, Asheville Parks & Recreation's Rec 'n' Roll mobile play center, a miniature train, and other hands-on activities will be available. Asheville Outlets' campus also hosts Give to the Music's Kid's Day and Summer Camp Expo during the same time.
Asheville Outlets is located on 800 Brevard Road in Asheville. Truck City AVL takes place in the back parking lot near the food court entrance. The event is made possible by partners including the City of Asheville, Asheville Outlets, Buncombe County, Emma Bus Lines, Gray Line Trolley Tours of Asheville,  iHeartMedia, Metropolitan Sewerage District, National Park Service, North Carolina Wildlife Resources Commission, The North Carolina Arboretum, US Army, and USDA Forest Service.
For the latest programs and opportunities, follow the Asheville Parks & Recreation on Facebook @aprca and Instagram @ashevilleparksandrecreation or visit  www.ashevillenc.gov/parks.