What is Therapeutic Recreation?
Asheville Parks & Recreation oversees many specialized programs to harness the transformative power of outdoor spaces, cultural arts, and active living for all members of our community. Throughout the years, the Therapeutic Recreation (TR) Program has offered many opportunities for inclusive and adaptive activities to locals with intellectual and developmental disabilities. In practice, that means the TR team is ready to challenge the idea of what a person is told they "won't be able to do" and provide life-enhancing experiences for people of all abilities to access high-quality recreational activities.
Recently, the TR Program established a new home base at Murphy-Oakley Community Center. The move allowed for the establishment of OAKS, a new inclusive after school program for elementary students with and without disabilities that provides homework assistance and various opportunities to play. On days when public schools are closed or are scheduled to release early, OAKS participants enjoy field trips and other special events. Additional programming at the community center includes inclusive day camps during spring, summer, and winter breaks. On Tuesday and Wednesday mornings during the school year, adult activities include cooking, crafts, and physical activity.
Seasonally, TR schedules adaptive sports at locations throughout Asheville including baseball, basketball, tennis, flag football, bowling, archery, fishing, and indoor rock climbing. As public health guidance allows, the program looks forward to bringing back its monthly dinner club, parents' nights out, movie nights, dances, cooking classes, and other opportunities for socialization.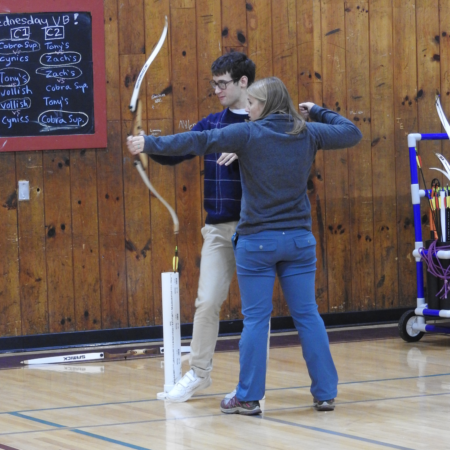 Meet the Team
Lori Long, LRT/CTRS, is the TR Program Coordinator. She graduated from Western Carolina University with a bachelor's degree in Recreational Therapy and has spent 17 years working in the field, 11 of which have been with Asheville Parks & Recreation. Under her leadership, the program has implemented OAKS, adaptive swimming, tennis, cycling, dinner club, holiday events, virtual events including trivia and movies, and more.
Lori earned and maintains her credentials through education, experience, continuing professional development, demonstrating mastery in the field, and successfully passing a stringent test. LRT denotes a Licensed Recreational Therapist while CTRS indicates the Certified Therapeutic Recreation Specialist credential.
Justyn Travers' current work can be traced back to when he was 15 years-old and began while volunteering in the special education classroom at his high school and with Special Olympics and working at a summer camp for children with disabilities. While earning his bachelor's degree in Criminal Justice from Lees-McRae College, he worked one-on-one with teens and adults on the autism spectrum. Following jobs at a group home for children with autism and as a teacher's aide in the progressive education program, he joined Asheville Parks & Recreation in a part-time role involving summer camps and adaptive sports. In September 2021, Justyn became the full-time Program Leader for TR. Since then, he's continued to implement and strengthen existing programs, provided behavior training to other program leaders, and advocated for disability awareness and basic sign language training for all staff.
Get Involved
If you'd like to participate, check out current TR Program highlights. 
We're currently looking for passionate superstars to join the team. Turn having fun into a paycheck with a flexible schedule and pay starting at $15 per hour! The TR Program has opportunities for individuals to work in after school, summer camp, and adaptive sports programs. Experience working with individuals with disabilities is preferred, but not required. Apply online.