Eat, drink, be merry — and safe this Thanksgiving. It's a top day for family gatherings and home fires.
Macy's Thanksgiving Day Parade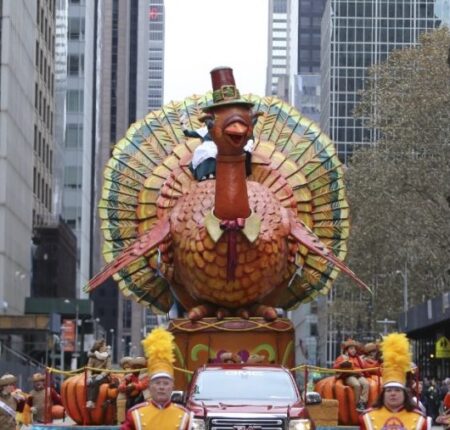 Macy's Thanksgiving Day Parade runs from 9 a.m. to noon. Available on NBC, on NBC's website or on the NBC app. Last year NBC partnered with Verizon to stream the parade for free on YouTube. NBC hasn't confirmed if that will happen again for 2021, so stay tuned in case that option becomes available.
This year's parade will reportedly feature a 41-foot tall Baby Yoda balloon (AKA Grogu from The Mandalorian). There will also be a new Pokémon-themed balloon featuring Pikachu and Eevee riding on a sleigh.
NFL
Bears VS. Lions at 12:30 p.m.
Raiders vs. Cowboys at 4:30 p.m.
Bills vs. Saints at 8:20 p.m.
Fire safety
Thanksgiving is the peak day for home cooking fires with more than three times the daily average for such incidents. Christmas Day and Christmas Eve ranked second and third, with both having nearly twice the daily average. 
In 2019, U.S. fire departments responded to an estimated 1,400 home cooking fires on Thanksgiving, the peak day for such fires.
Unattended cooking was by far the leading contributing factor in cooking fires and fire deaths.
Cooking caused half (49 percent) of all reported home fires and more than two of every five (42 percent) home fire injuries, and it is the second leading cause of home fire deaths (20 percent) in 2015-2019.
Source: National Fire Prevention Association
Food safety
USDA food safety tips for Thanksgiving. Hint: Use a food thermometer to ensure your turkey is safe to eat. The recommended internal temperature is 165 degrees.