This entry is part of Park Views, a weekly Asheville Parks & Recreation series that explores the history of the city's public parks and community centers – and the mountain spirit that helped make them the unique spaces they are today. Read more from the series and follow APR on Facebook and Instagram for additional photos, upcoming events, and opportunities.
Nestled at the intersection of downtown and the East End/Valley Street neighborhood, Martin Luther King Jr. Park has been the site of ballgames, celebrations, and many memorable moments since it opened in 1990. Today, the 3.4-acre space includes a lighted ballfield with scoreboard, playground, courtyard plaza, picnic tables, restrooms, concession stand, and off-street parking, but the community-guided process to bring the park to life took nearly 15 years.
Urban Renewal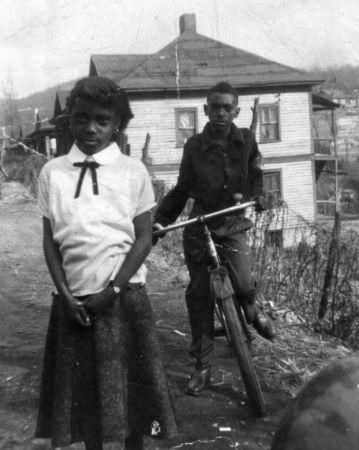 In the 1970s, federal rehabilitation funds for urban renewal projects dramatically changed the fabric of some of Asheville's oldest neighborhoods. East End had been a vibrant Black community since the 1880s and flourished through the first half of the twentieth century, but found many of its homes in code violation and demolished by 1978. The neighborhood was bisected by the construction of S. Charlotte St., creating a five-lane barrier between residences and The Block, the historic business district where Black-owned businesses flourished for decades that includes YMI Cultural Center.
Informally, the term "urban renewal" encompasses a number of government programs with goals to eliminate poverty and racial injustice. In Asheville, these projects came with promises of improved housing, upgraded neighborhood services, better streets and sidewalks, job creation, and new parks and community facilities. 
During the redevelopment of East End, many of the promises of urban renewal were left unfulfilled and a once strong family of neighbors was fractured – with some never to return. However, the site of MLK Park was purchased with federal funds to develop as a park by the Asheville Housing Authority (HACA) as part of these redevelopment efforts.
Bee Tree Recreation Area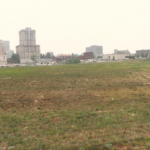 The City of Asheville acquired Bee Tree watershed in Swannanoa in 1915 to develop as a reservoir to provide water to the growing city. The construction of North Fork Reservoir in the mid-1950s moved most water treatment to the new facility and Bee Tree Lake was opened for public fishing and recreational use in 1964 with campsites, picnic areas, a swimming pool, and other features developed by 1969. Following a drought that started a year before, the recreation area closed in March 1981 and was once again solely used as a source for water production.
Since the recreation features had been jointly funded by the people of Asheville and federal grants, the National Park Service required a new public recreational facility to replace it. Asheville Parks & Recreation (APR) explored purchasing East Asheville Recreation Club in Haw Creek and developing new parks near Beaver Lake or on HACA property in West Asheville, Southside, and East End. Ultimately, the East End site prevailed in 1987 and HACA agreed to transfer the deed following completion of the park.
Community Leads Process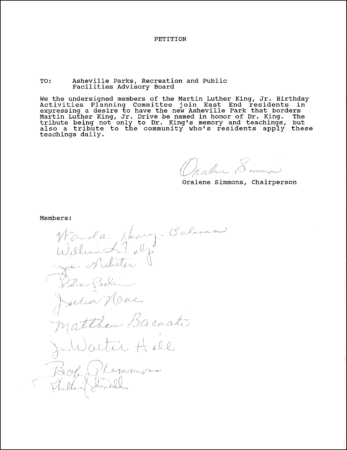 Located between Martin Luther King Jr. Dr. and S. Charlotte St., the park site presented the opportunity to preserve a permanent public space. Though Stephens-Lee Community Center, McCormick Field, Memorial Stadium, and Mountainside Park were located nearby, the community envisioned a new modern park to serve multiple uses such as sports venue, public square, and place to explore nature and connect with neighbors.
Construction work began in 1989 after additional federal grants were secured, but the park remained unnamed. Hundreds of East End neighbors submitted a petition to honor the legacy of Dr. Martin Luther King by naming the park in his honor.
A leader of all people, Dr. King's courage, vision, and dedication to advance civil rights continues to unite communities to combat inequality. His leadership had a profound effect on the national conversation to counter prejudice and opened doors that had long been closed to Black Americans. Young people around the world still learn about Dr. King's life – and his vision of equality, justice, and a better tomorrow for all.
A New Park for East End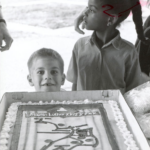 Following delays related to Hurricane Hugo, Martin Luther King Jr. Park opened on April 23, 1990 with a lively "Walk in the Park" celebration highlighting its lighted softball/soccer field, jogging/walking trail, plaza with concessions and restrooms, 18-station fitness trail, playground and picnic area, and parking. Other special events held during the first year included hot-air balloon launches during Bele Chere and HACA's 50th anniversary celebration.
Shortly after the park opened, Dr. Martin Luther King Jr. Association of Asheville and Buncombe County began searching for an artist to create a six-foot bronze sculpture of Dr. King to stand in the center of a dogwood grove near the park's plaza. After raising $30,000, the life-size statue of Dr. King with two children was installed in 1996, becoming one of the first pieces in the City of Asheville's public art collection.
MLK Park Today
In 2012, Asheville City Schools students planted a dogwood tree near the playground to recognize the life of William Roland, a watchmaker and business owner who provided space at his jewelry store on Market St. for the Asheville Student Committee on Racial Equity (ASCORE) to organize protests against segregated businesses and public facilities in the 1960s. An East End/Valley Street Historical Marker was added to the plaza highlighting significant people and places connected to the neighborhood.
Over the years, the park has fulfilled its mission as a multi-use public space by hosting small events like reunions and birthdays and large events including the annual East End/Valley Street Heritage Festival, Juneteenth celebrations, July 4 festivities, charity walks, Shindig on the Green, Earth Day, Asheville Greek Festival, Tiny Tykes Day, Downtown Kite Flying Festival, and peace walks and rallies on Martin Luther King Jr. Day, among others. And it's still a prime spot to take in ballgames and catch up with neighbors.
Do you have photos or stories to share about MLK Park? Please send them to cbubenik@ashevillenc.gov so APR can be inspired by the past as we plan our future.
---
Photo and Image Credits
Following a three-year fundraising effort, a life-size bronze statue of Dr. King was installed at the park. Designed by Richard Hallier, it shows the civil rights leader gazing earnestly into the future, one arm upraised and the other grasping the hand of a young girl with unconditional trust in her eyes. A small boy in overalls clutches his leg. Grammy Award-winner Roebuck "Pops" Staples of the Staple Singers performed a concert at the public unveiling.

This photograph of Bennie Lee Lake, Jr. and his sister was taken near their home on Velvet St. in the 1950s. Before redevelopment in 1979, Velvet St. connected Eagle St. to Beaumont St., where parking lots now terrace the hill and the Asheville Public Works building is located. Bennie was a graduate of Stephens-Lee High School and Shaw University, and was inducted into the Hall of Fame at both schools. With Johnny Bailey, he co-wrote a book about athletics at Stephens-Lee, The Greatest Sports Heroes of the Stephens-Lee Bears. Courtesy of Buncombe County Special Collections, Pack Memorial Public Library, Asheville, North Carolina.

Neighborhood view looking west across the park property towards downtown in 1986.

More than 200 East End/Valley Street residents submitted a petition to name the park for Dr. King with the support of Dr. Martin Luther King Jr. Association of Asheville and Buncombe County. The Association formed under the auspices of APR and was founded by Dr. Oralene Simmons, a longtime APR team member who served as director of Tempie Avery Montford Community Center and Cultural Arts Supervisor. It was officially established as an independent nonprofit organization in 2003. Its annual Prayer Breakfast is one of the largest and most admired MLK celebrations in the southeast.

Several events took place in April and May of 1990 to familiarize the community with the new park including one with a cake commemorating the park's jogging trails. Courtesy of Buncombe County Special Collections, Pack Memorial Public Library, Asheville, North Carolina.

Martin Luther King Jr. Park continues to evolve as evidenced by this clipping from Asheville Citizen-Times.