This entry is part of Park Views, a weekly Asheville Parks & Recreation series that explores the history of the city's public parks and community centers – and the mountain spirit that helped make them the unique spaces they are today. Read more from the series and follow APR on Facebook and Instagram for additional photos, upcoming events, and opportunities.
Traveling along the streets of Kenilworth, a unique brick building sticks out among eclectic homes in the mostly residential neighborhood. Named for independent adults and active retirees in the "autumn of life," it is the oldest community center of its kind in North Carolina. As aging in Asheville evolved over the past six decades, Harvest House has done the same.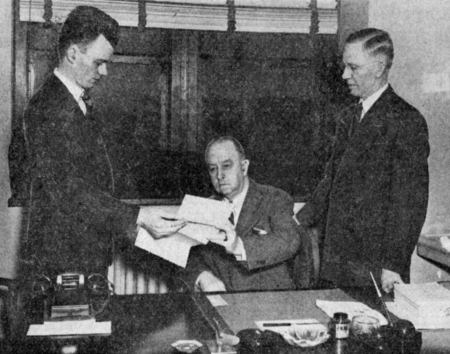 Independent Town of Kenilworth
Prior to its merger with Asheville, Kenilworth was an independent suburb of the larger city. While the spirited town existed for less than 40 years, it boasted its own police and fire departments and football team, hosted star-studded festivities, and elected one of the first female mayors in the state.
In the days before widespread automobile ownership, travel between Kenilworth and Asheville took a considerable amount of time. As the town grew, so did the need for a store with common goods. To fill this need, a building on Kenilworth Road was designed and constructed for around $20,000 in 1925 as three retail spaces by Roland Wilson. Over the next five years, the Wilson Building housed a general store, pharmacy, and hardware retailer, among others.
With the national economic collapse of 1929, Asheville tapped smaller neighboring communities for annexation to consolidate revenue and services. Kenilworth residents chose to become part of the larger city, though the neighborhood still maintains much of its original style. A combination of the stock market crash and completion of Beaucatcher Tunnel led to decreased demand for stores close to residents' homes.
After sitting vacant for several months, Asheville Weavers set up shop in the building, employing 40 people and using 14 looms at opening. Under a variety of names including Carolina Hand Weavers and Asheville Homespun Yarns, the enterprise made clothing for wholesale buyers and sold fabric ends, knitting supplies, and overstock, essentially serving as an early outlet store.
By October 1943, the building became vacant again. Wilson sold it to the Kenilworth Community and Garden Club for $1,000, but it operated as part of the city's public parks and recreation system. Known as Kenilworth Community Center, it was a major factor in expanding the City of Asheville's recreation services to a year-round program in 1945.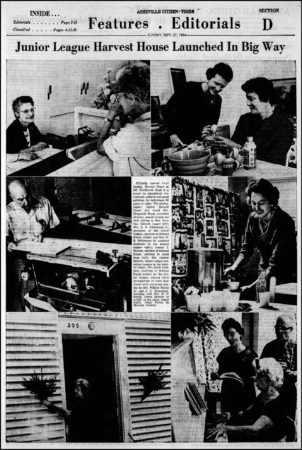 New Harvest, First Gathering
Over the next decade, the spacious brick building hosted community meetings, lectures, luncheons, art exhibits, flower shows, and other special events in addition to regular recreational activities like table tennis, shuffleboard, crafts, dramatics, and dances for people of all ages. During an era of government-mandated segregation, the city's recreation division operated Kenilworth Community Center for white residents and Valley Street Community Center for Black residents.
West Asheville Community Center opened in 1953 and Asheville Parks & Recreation (APR) became an official city department in 1956. The new department opened additional community centers in North Asheville, East Asheville, and Murphy-Oakley over the next decade, but most recreation programs were geared towards teenagers and kids. Adult use primarily centered on civic and community meetings, craft shows, and gardening competitions.
A 1963 survey of municipal services recommended a dedicated community center designed for Asheville's older residents. Local community organizations and government agencies already operated programs for the age group, but Junior League of Asheville (JLA) laid the groundwork for senior citizens to access social, cultural, and recreational services in a central location.
Under a partnership, JLA agreed to furnish one of the three shotgun-style spaces in Kenilworth Community Center, provide volunteers, and pay the salary of a director of the program which they named "The Harvest House." The other two spaces remained in use for the recreation department's crafts program and community programs such as square dancing and teen activities. APR made accessibility improvements to the building and continued to pay for its heat, electricity, and general maintenance.
Harvest House opened on September 20, 1964. Initially, Mondays were reserved for men with crafts and woodworking; Tuesdays and Thursdays were scheduled with lectures, tours, and special luncheons for women; and Wednesdays and Fridays offered crafts, painting, and other courses for men and women. Participation required membership that could be purchased for $2 per year.
On July 7, 1965, the Harvest House program became fully part of APR's services after JLA felt its members had taken it as far as possible with their resources. An advisory board elected from Harvest House members provided guidance and fundraising contributions, but primary funding transferred to APR which continued to add activities and staff.
Harvest House Grows Its Own
The success of Harvest House inspired APR to start a senior program at Stephens-Lee Community Center a few years later and open Senior Opportunity Center (now Grove Street Community Center) in 1971. Other extremely active satellite senior programs eventually operated out of Livingston Street Center (now Arthur R. Edington Education and Career Center) and Burton Street Community Center with a wide range of social, educational, and leisure-time activities. 
All of these programs grew to serve the maximum number of community members within the constraints of their facility size, so APR decided to rename Kenilworth Community Center to Harvest House and dedicate the facility to Asheville's active aging population in 1978. Using federal funds established by the Older Americans Act, APR renovated the building for the express purpose of providing a diversified program of activities and services for up to 500 older persons each week in a safe, accessible, and enjoyable environment. Programs serving other age groups moved to community centers in other parts of the city.
In the 14 years since the building was donated to the City of Asheville, only emergency repairs had been made. The renovation converted the unfinished basement into full-service weaving, ceramics, sculpting, and woodworking studios with additional restrooms. On the main floor, the multipurpose room was divided into two, allowing more than one program to take place at the same time. Restroom doors and stalls were widened to allow wheelchair access. Like the rest of the building, the social area, kitchen, and activity room received accessibility improvements. Lighting, plumbing, flooring, and electrical systems were replaced.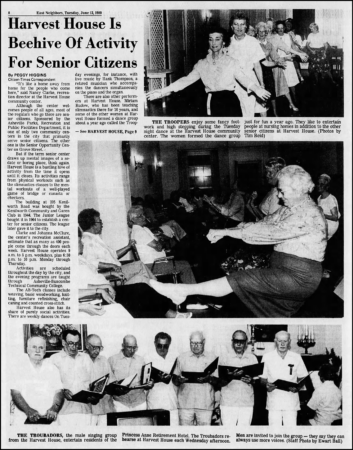 Outside of the building, the gravel parking lot was paved. A ramp was added to access a renovated shuffleboard deck with shade sheds over benches and an alfresco dining area.
With Harvest House's renovation complete, APR expanded programs to include daytime offerings such as slimnastics aerobics and computer courses and night classes like weaving, woodworking, knitting, furniture refinishing, and chair caning taught by AB Tech instructors. Social activities like dances, canasta, billiards, and sewing groups remained popular.
In the 1980s, several women formed a dance group called The Troopers and an all-male singing group named The Troubadours specialized in popular old favorites. Both performed at retirement homes and routinely placed first in Asheville-Buncombe Silver Arts competitions.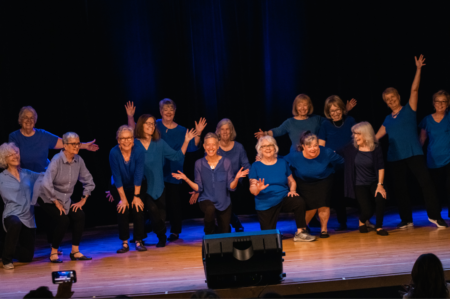 Today's Harvest
Much as it has since 1964, Harvest House still provides comfortable lounge areas for folks to drop in and socialize, read, and play games. Its schedule is packed with dedicated times for pinochle, bridge, canasta, Mexican dominoes, and mahjong – mostly facilitated by volunteers. Throughout the week, its studio room hosts tap, line, and folk dancing classes, as well as fitness and exercise like Zumba and yoga. Community members in multi-week instructional weaving, sculpting, and woodworking courses prove it's never too late to learn something new. Road trips, murder mystery parties, presentations and speakers, potlucks, and lunch meetups allow natives and new arrivals alike to connect with one another.
The experiment to redefine the aging experience in Asheville continues, restricted only by a lack of imagination. While Harvest House Association still provides guidance and some financial assistance through voluntary $12 membership donations, all that's needed for admission is a desire to stay active, share conversation, and continue to grow.
Do you have photos or stories to share about Harvest House Community Center? Please send them to cbubenik@ashevillenc.gov so APR can be inspired by the past as we plan our future.
Photo and Image Credits
Harvest House's popular shuffleboard deck has been a feature since its earliest days. While players initially descended steep stairs, renovations in the late 1970s added a ramp from the parking lot, better access to the previously-unfinished lower level with an exit to the court, and shade sheds over the benches. A deck was added to the building in the mid-1980s for more outdoor enjoyment.

While complete records are difficult to locate, the Wilson Building was originally built to house up to three stores with addresses of 201, 203, and 205 Kenilworth Road. While Asheville Weavers operated a plant in the building starting in 1931, various businesses sometimes operated in other storefronts until the building became Kenilworth Community Center.

E. Grady Sinclair Jr., president of Kenilworth Community and Garden Club (left) and James H. Dillard, chairman of the organization's solicitation committee, present the deed for the Wilson Building to Asheville Mayor L. Lyons Lee in this photo from 1944. The club acquired the property from Roland A. Wilson Sr., a Tampa resident who developed Kenilworth with Jake Chiles and kept a summer home in the neighborhood. The club deeded the property to the City of Asheville to be maintained as part of the city parks system. It officially opened as Kenilworth Community Center on September 7, 1944. Courtesy of Buncombe County Special Collections, Pack Memorial Public Library, Asheville, North Carolina.

The Harvest House program had plenty on its schedule from the very start, evidenced in this

Asheville Citizen-Times

article.

JLA spent around $7,000 successfully launching the city's first coordinated program for older adults, using sales from its Next-to-New consignment shop located on Biltmore Avenue. This included comfortable furnishings, custom drapes for the large windows, bookshelves for a lending library, and the salary for a program director. After a few months, the program was turned over to APR and continued to grow into a dedicated community center for Ashevillians ages 50 and over.

A photo from 1978 shows a gravel parking lot and signs for Kenilworth Community Center, Harvest House, and Kenilworth Craft Center. Following renovations the next year, the entire building and exterior grounds became known as Harvest House Community Center.

Through the 1980s and into the 21st century, Harvest House programs continue to defy the outdated perception that aging is associated with declining health and irrelevance thanks to the active and optimistic folks who use the community center. This

Asheville Citizen-Times

article could easily be written at any point in the center's existence.

Friendship and movement power Harvest House. This group of women recently showcased their line dancing skills at Asheville-Buncombe SilverArts Showcase.

Woodworking, weaving, and sculpting courses are popular with community members looking to learn a new skill. When classes aren't in session, equipment is available for advanced users to work on their own projects for a small fee.