Location and History of Shiloh
The Shiloh neighborhood is a self determined resilient community which has weathered the storms of relocation, desegregation, and urban renewal. The name Shiloh is biblical, meaning "Peaceful One." Shiloh spans 240 acres and has over 1200 households. Single family bungalows and ranch-style homes traditionally grace the community. The neighborhood is bordered by Hendersonville Road to the west, Sweeten Creek to east, I-40 to the north, and Rock Hill Road to the south.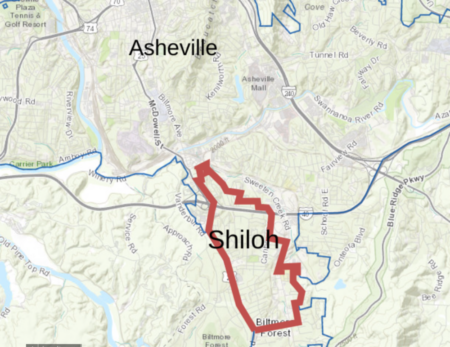 Shiloh was formally established in 1870 and is one of the last historical Afro-American communities in Asheville. In the late 1880s George Vanderbilt approached the founders of the original Shiloh, also known as Old Shiloh, with a request to purchase their land for the construction of the Biltmore Estate. The neighbors at first refused the offer, but Vanderbilt persisted until finally convincing residents to give up their land with a condition that their church, AME Zion, and its ancestral graves be relocated to what would become known as the New Shiloh (currently 95 Shiloh Road). 
Over the next century, Shiloh evolved and prospered around three cornerstones: its churches, its school, and its people. Shiloh residents remained resilient, maintaining gardens at their homes and looking after each other. Residents took to heart and embodied the phrase: "It takes a village to raise a child."
For more information on Shiloh's history, visit the Shiloh Community Association website. Also check out the Shine on Shiloh walking tour.
The Shiloh Community Association (SCA) was established in 2000 as a 501c3
Motto: "Building on the Legacy, Embracing the Future"
Shiloh's neighborhood vision is one which promotes community, intergenerational relationships, interconnectedness, and solidarity. The SCA and the Shiloh neighbors embrace and welcome new residents, educating them of the historical legacy and long term vision for the future. Shiloh has five active churches, a thriving community garden which hosts weekly garden days, and a Little Library and Free Food Pantry. Shiloh hosts six annual events including Historic Day and Black History Celebration, which are well attended by the residents. A scholarship is given each year to a resident graduating from high school who is planning to attend college or a university.
SCA is proactive in addressing commercial encroachment and residential development through engaging with Asheville City Council, Planning and Zoning, and the Technical Review Committee. The SCA offers community engagement programming which recruits faculty and students from local colleges and universities for volunteer opportunities. These students work with the neighborhood organization in program development, planning and the implementation of the Shiloh 2025 Plan.
The Shiloh vision is to have a community legacy passed down from generation to generation and to preserve the original character and integrity of its ancestors. The Shiloh Community Resource Center (SCRC) will support the residents in health, wellness and economic development.