Following the news that Malvern Hills Pool will not open following safety concerns with its drainage and suction system, Asheville Parks & Recreation has planned a series of free water-based programming to take place throughout the summer titled Malvern Thrills. The department's Rec n Roll mobile recreation van will roll into Malvern Hills Park (75 Rumbough Place) with inflatable water slides and bounce houses, games with water elements, and other water-related activities. Each date features a unique lineup of features and activities to keep it fresh and exciting.
"As soon as we realized Malvern Hills Pool would not open as planned, our recreation team immediately began brainstorming ways to bring water-based fun to this neighborhood and the surrounding community because we know how important that programming can be," says D. Tyrell McGirt, Director of Asheville Parks & Recreation. "While this doesn't replace all of the benefits of the public pool, it provides free opportunities for local families to beat the heat, spend time together outdoors, and make memories this summer."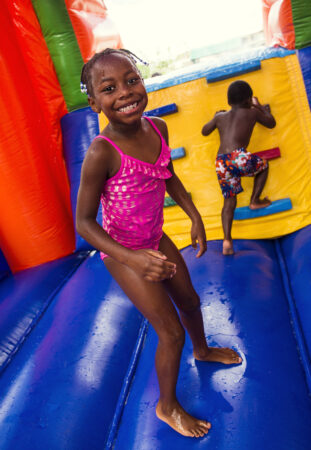 Malvern Thrills Dates and Times
Sunday, June 26, 10 a.m.-2 p.m.

Tuesday, June 28, 11 a.m.-3 p.m.

Wednesday, July 6, 11 a.m.-3 p.m.

Tuesday, July 19, 11 a.m.-3 p.m.

Saturday, July 23, 10 a.m.-2 p.m.

Saturday, July 30, 11 a.m.-3 p.m.

Saturday, August 6, 10:30 a.m.-2:30 p.m.

Thursday, August 11, 11 a.m.-3 p.m.
All dates and times are subject to weather conditions. 
Asheville Parks & Recreation
Established in 1954, the Asheville Parks & Recreation Department manages a unique collection of more than 65 public parks, playgrounds, and open spaces throughout the city in a system that also includes full-complex recreation centers, swimming pools, Riverside Cemetery, sports fields and courts, and community centers that offer a variety of wellness-, education-, and culture-related programs for Ashevillians of all ages. With 8 miles of paved greenways and numerous natural surface trails, its complete portfolio acts as the foundation of a vibrant hub for the people of Asheville to connect with their neighbors and explore the natural beauty of a livable and walkable city.
Driven by the promise that Asheville is a better and safer place when everyone from infants to retirees has the opportunity to be supported, healthy, and successful, Asheville Parks & Recreation was the first nationally-accredited municipal recreation department in the United States. For the latest updates, follow the department on Facebook @aprca and Instagram @ashevilleparksandrecreation or visit  www.ashevillenc.gov/parks.