Warmer weather has come, bringing with it spring clean up of brush in many yards. Here are some important guidelines and reminders from Asheville Sanitation:
Have brush at the curb no later than 7 a.m. Monday on the collection day of your week. View your schedule or sign up for collection reminders at

ashevillenc.gov/AVLcollects

or download the free AVL Collects app.

As always, we encourage the use of paper bags or reusable containers for leaves and small yard waste. Reusable containers should be clearly marked "yard waste."




No tree trunks, stumps, branches, limbs or shrubbery trimmings larger than 6 inches in diameter, longer than 4 feet or weighing more than 50 pounds will be collected by the City. Tree and shrubbery limbs with protruding branches must be trimmed; please place them in piles at curbside separately and away from leaves and thorny vegetation. 

Cut thorny vegetation in lengths not to exceed 2 feet, if you are placing them curbside for collection. Please put them in a separate pile from other tree and shrubbery trimmings or loose leaves.

Don't put poison ivy in your yard waste pile. Bag it up and throw it in the trash.

If you are stacking a large pile that will require the use of our boom/claw truck, please make sure it's away from power lines and overhead obstacles. 

The City does NOT

collect brush generated from a hired landscaper or contractor. Ensure that landscaping companies haul those materials away.

For everyone's safety, please use caution and drive slowly near City staff working to collect brush!
Consider composting!
The City does not collect garden/veggie waste or grass clippings — leave grass clippings on the lawn and try backyard composting for garden scraps!
Visit the Asheville Greenworks website for info on backyard composting, to sign up for a workshop, or to get materials for your own backyard composting bins!
Stay up to date with AVL Collects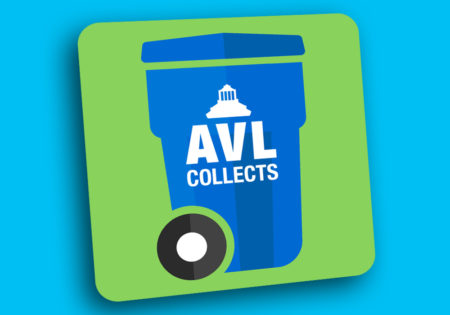 Go to ashevillenc.gov/AVLcollects or download the free app AVL Collects to get reminders about trash, recycling, and brush collection; personalized, printable and downloadable calendars; and to search our Waste Wizard for how to recycle or properly dispose of 100s of items!
For more information about Asheville Sanitation services, visit the City of Asheville website.