Asheville Parks & Recreation (APR) issued a challenge for community members to make 2023 a record breaking year for Asheville-Buncombe Senior Games and SilverArts. 45 participants advanced to the state games to compete against North Carolinians from Murphy to Manteo in a variety of events, bringing home 53 total medals – with 21 gold finishes!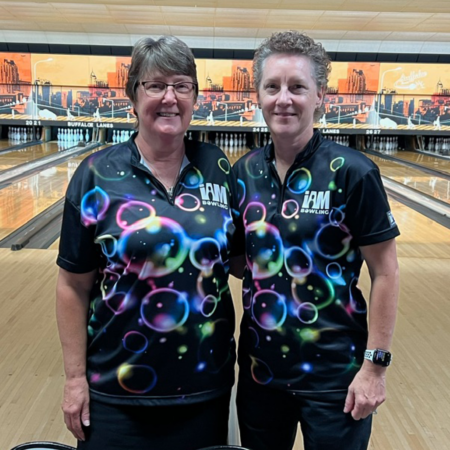 "I am so proud of all who participated in the local sports and arts competitions," according to Colt Miller, APR Community Sports Outreach Coordinator. "The achievements at the state level are truly incredible and I can't wait to see what we can accomplish next year."
In addition to those who secured top tier finishes, four locals set new North Carolina Senior Games (NCSG) state records:
Tracy Calfee and Colleen Laroe set a bowling doubles record score of 1,209.

Lynne Frady successfully defended her 2022 NCSG gold medal in archery and remains the NCSG Archery Compound with Site and Release Aid record holder.

James Martin broke his own previous state records in cycling with a 6:50 time in the 5K and a 13:45 time in the 10K.
Asheville-Buncombe Senior Games and SilverArts is one of 53 local events officially-sanctioned by NCSG, the largest senior Olympic program in the nation. The schedule includes competitions and demonstrations to exercise the mind and body each spring and summer at locations throughout Buncombe County. Local winners advance to the state competition each fall.
The next National Senior Games competition takes place in Des Moines in 2025. Athletes qualify for the national competition in even numbered years at state competitions, so locals
who will be at least 50 years of age on December 31, 2024 are invited to participate in the next edition of Asheville-Buncombe Senior Games next year. 
Through December 12, Intro to Senior Games Sports highlights a different sport each Tuesday at West Asheville Park from 10 a.m.-12 p.m. For questions or more information, please contact Colt Miller at (828) 707-2376 or cmiller@ashevillenc.gov.
Local Medal Recipients
Gold Medals
Gloria Cadavid – Table Tennis, Singles

Tracy Calfee – Bowling, Singles

Ling Fan and Gloria Cadavid – Table Tennis, Doubles

Katherine Fincher – 5K Race Walk

Lynne Frady – Archery Compound with Sight and Release Aid

Wendi Keith – Mini Golf

Bonnie Knox and David Post – Pickleball, Mixed Doubles

Colleen Laroe – Bowling, Singles

Colleen Laroe and Tracy Calfee – Bowling, Doubles

Mark Looney – 1500 Meter Run

Mark Looney – 5K Run

James Martin – 5K Cycling

James Martin – 10K Cycling

Ron Parks – 100 Yard Breastroke

Ron Parks – 200 Yard Breastroke

Jason Reutter – Discus Throw

Jason Reutter – Standing Long Jump

Jason Reutter – 800 Meter Run

Kenny Walker – 800 Meter Run

Kenny Yan and Martin Sullivan – Badminton, Doubles
Silver Medals
Tyrone Erickson – Running Long Jump

Linda Goodwin – Mini Golf

George LeRoy – 800 Meter Run

Ron Parks – 100 Yard Individual Medley

Ron Parks – 200 Yard Individual Medley

Dianna "Dee" Pierce and John Pierce – Pickleball, Mixed Doubles

Rosemary Safranek – 1500 Meter Run

Mary Soyenova – 200 Yard Freestyle

Melanie Walker – 50 Meter Dash

Melanie Walker – 100 Meter Dash

Melanie Walker – 200 Meter Dash

John Watson – 200 Meter Dash

Tip Top Tappers – Dance, Large Group
Members: Sydney Atkinson, Karen Driessen, Maryjane Findley, Betsie Garton, Lynne Gaudette, Gretchen Henn, Patricia Hensley, Lindsay Leghorn, Laura Lemay, Carole Levy, Susan Linton, Susan Richardson, and Adina Schoenberge 
Bronze Medals
Tyrone Erickson – Standing Long Jump

Jim Frady – Archery Compound with Sight and Release Aid

Thomas Goodwin – Mini Golf

Rosemary Safranek – 400 Meter Dash

Rosemary Safranek – 800 Meter Dash

Daniel Tullis – 50 Meter Dash
In addition to programs for older adults, APR offers plenty of programs and events, weekly clubs and classes, and more for people of all ages. Check out these resources: