The 2023 Asheville Holiday Parade, presented by Bojangles, returns to downtown on Saturday, November 18, beginning at 11 a.m.
Before the parade gets underway, join your neighbors and friends at 10:30 a.m. along the parade route for the first-ever " Onesie One-Miler" Race.  Participants are invited to grab their coziest onesies to add a dash of fun to the pre-parade festivities.  Register here.
Produced by the Asheville Downtown Association in partnership with the City of Asheville, the Holiday Parade lets Asheville come together to celebrate the season, showcase our community's creativity, and make this year's event a cherished memory for all.
After the parade, families can make their way to the Restoration Hotel for free photos with Santa from 2 p.m. to 4 p.m. It's a wonderful opportunity to capture those magical moments and create lasting memories.
The success of this event relies on the support of our community, and enthusiastic volunteers. Join in spreading joy and holiday spirit by contributing your time and energy to make this parade truly special.  For more information and to submit your volunteer application, please visit: www.ashevilledowntown.org/holidayparade.
Parade route 
Like any celebration, there will be impacts to traffic and parking. Get to know the parade route and access streets to City owned parking garages so you can make the most of the day.
The parade will begin on Biltmore Avenue at Charlotte Street, proceeding north to Patton Avenue, and then west on Patton Avenue, terminating at North Ann Street.
The parade's official performance stop is located at the corner of Biltmore and Patton Avenues, but attendees will find great viewing areas all along Biltmore and Patton Avenues. 
The parade is expected to last about an hour and a half.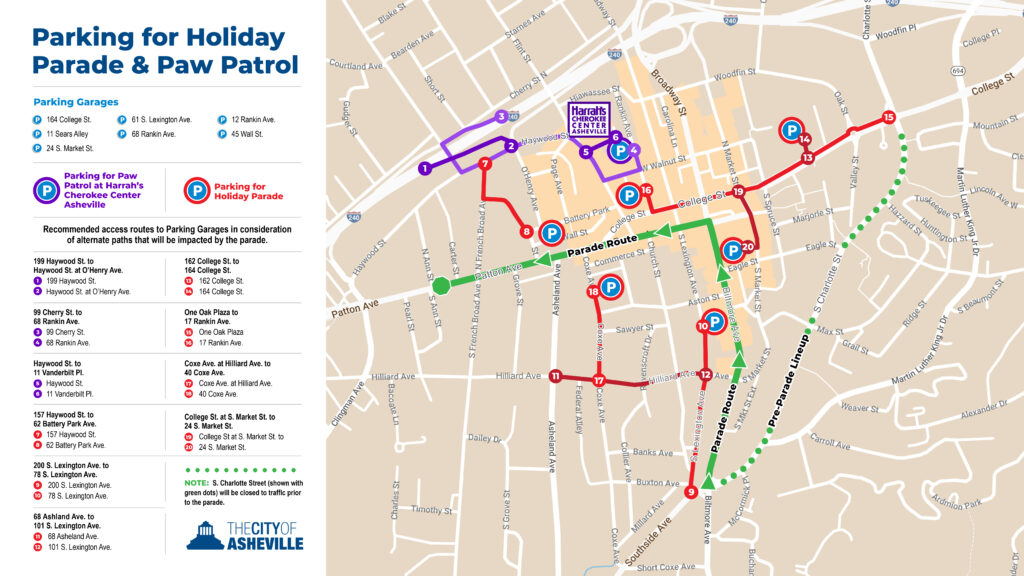 Parking garages
Pack Square Garage is accessible via S. Market Street;

Wall Street Garage is accessible via Otis Street;

Aloft/Biltmore Garage is accessible via South Lexington Avenue;

Buncombe County Courthouse Garage is accessible via College Street;

Buncombe County Health & Human Services Parking Garage is accessible via Coxe Avenue off Sears Alley;

Rankin Avenue and Harrah's Cherokee Center Asheville garages are accessible via Rankin Avenue.
Street closures
Charlotte Street between College Street and McCormick Place will be closed to traffic at 7 a.m. to accommodate the parade line-up. Detour via McCormick Place and Martin Luther King Jr. Drive. Charlotte Street will reopen to traffic shortly after the parade has cleared the area.
North and South Pack Square will close at 7:30 a.m. for the TV crew and judges area (no parking – towing enforced).
The parade route will begin road closures at 9 a.m.  (no parking – towing enforced).
All roads intersecting the parade route will be limited to local traffic only.
Roads are expected to reopen around 2 p.m. once street sweeping and cleanup is complete.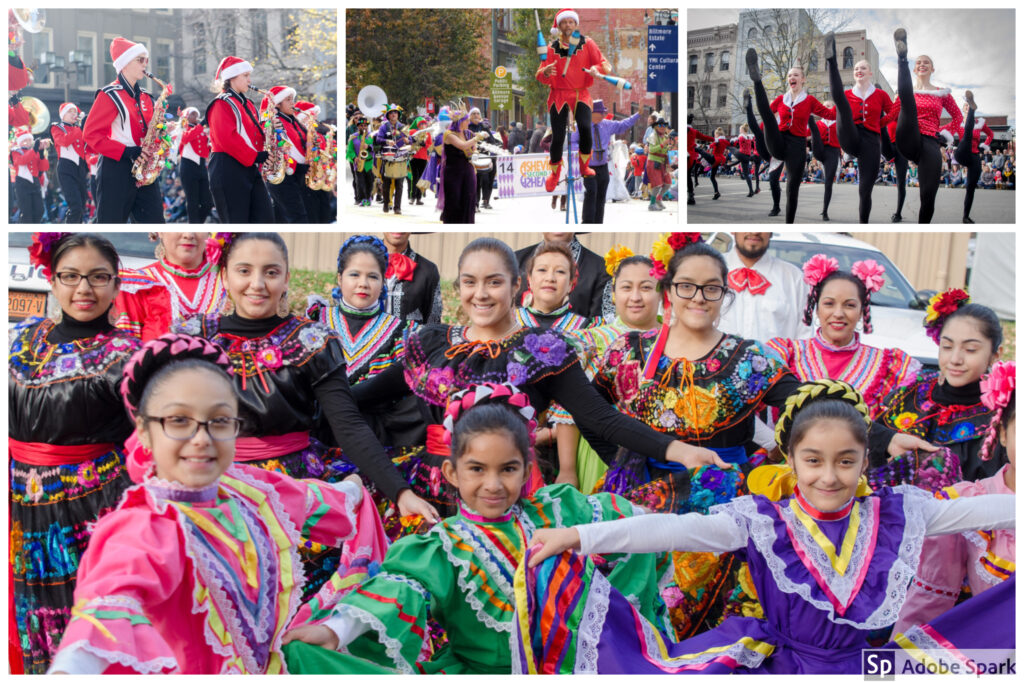 Other helpful information
Restrooms: Available at the Pack Square Park Pavilion, 121 College St. Find portable restrooms on South Pack Square near Biltmore Ave., in the LaZoom Room parking lot on Biltmore, and at First Bank at Patton Ave. and Church St.
Transit routes will be impacted. Please check for scheduled adjustments.
ADA Accessibility: For anyone requiring accessible parking or other ADA accommodations, please contact Jon Fillman at 828-259-5738 or email at jonfillman@ashevillenc.gov by noon, November 16.
Parade sponsors 
The 2023 Asheville Holiday Parade is presented by Bojangles of WNC and the following sponsors: Ingles Markets, NC Arboretum, Telco Community Credit Union, Restoration Hotel Asheville, Sun Soo Martial Arts, Kudzu Brands, iHeart Radio, Aloft Hotel, A Look At Asheville, Asheville Color and Imaging, and more.