Halloween is over – and your jack-o-lantern has served its purpose with it's spooky glow.  Don't trash it – compost it!
Asheville Greenworks and the City of Asheville have partnered with Wicked Weed West for a Pumpkin Compost Drop Off Event at Wicked Weed West on November 5 and 6.
Did you know the United States produces approximately 1.3 billion pounds of pumpkins every year? Most of that 1.3 billion pounds is thrown away! So help us send pumpkins to compost, reducing greenhouse gas emissions and creating soil that will put nutrients back into the ground!!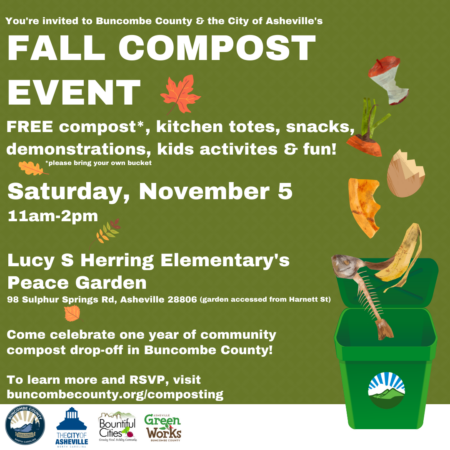 Also on November 5 – Compost Education Event at Lucy Herring Elementary School Peace Garden – Come celebrate one year of community compost in Buncombe County!
Free compost
Kitchen totes
Demonstrations
Kids activities
Snacks
Fun!