As remnants of Tropical Storm Fred hit the Asheville area yesterday and into the night, many City of Asheville departments worked in coordination to keep the people of our community safe.  The City activated the emergency operations center early afternoon on Tuesday, Aug. 17, in order to best coordinate City efforts and to work in conjunction with Buncombe County dealing with response and messaging. 
Buncombe County has declared this event a State of Emergency which is the first step to working on the recovery from damages sustained by Tropical Storm Fred. The City of Asheville is among municipalities covered under this declared State of Emergency.
"Our hearts go out to those who suffered unimaginable loss and damages from this storm," said Mayor Esther Manheimer.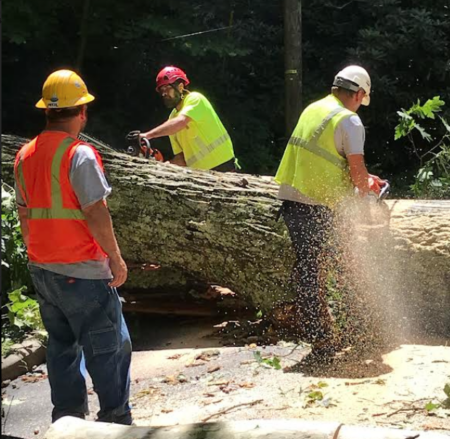 Calls for emergencies related to this storm concerned moving water rescues, downed trees and downed power lines. Many roads in and around the city have flooded and may continue to have rising water today, especially areas around the French Broad River which is still in flood stage. Barricades have been placed at many of these flooded areas and it is requested that no person for safety reasons enter these areas by vehicle or foot. 
"Our Asheville Fire, Police and Public Works employees are not only well trained but also incredibly dedicated to the safety of this community," said the Mayor. "I am personally proud of their work in the face of this storm, especially in performing rescues."
Overnight and into today, City personnel remain watchful of our rivers and streams to ensure the continued safety of our community. Public Works has responded to 18 downed trees, many of them with power lines entangled. We would remind everyone to stay away from downed power lines.
As flood waters recede, streets will need to be cleaned of silt and debris before vehicles can travel safely on them. Again, please do not cross barricades or enter closed streets until they have been reopened.
For updated information regarding current City functions and street closures, as well as recovery resources for individuals, visit Asheville City Source on the City of Asheville website.