If you are a sewer, you often wonder how you will ever use up your "stash." That's the cloth collection many sewers acquire through the years of making baby quilts, wall hangings and other fabric projects.
Now they've found a calling.
At a time when personal protective equipment (PPE) shortages are widespread nationwide, our community is stepping up  to help provide masks for just about everyone.
By day, they are managers, lab technicians and IT professionals. Come nights and weekends, some Asheville employees work a second shift sewing masks to protect our community from exposure to the COVID-19 virus.
Other employees have had their families pitch in to make masks for their crew, especially at the Asheville Fire and Police Departments.
Here are the stories behind the masks!
Masks of Love volunteer
Debbie Ivester's got game when it comes to sewing masks. Our Assistant Recreation Director teamed up with Masks of Love WNC to churn out about a hundred of them in April.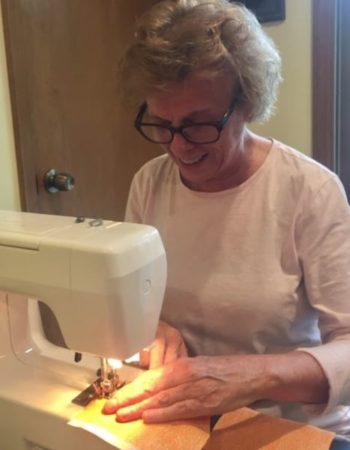 Masks of Love is a great resource for mask patterns — and for connecting masks with people who need them. Started by Dr. Carly Brown, founder of Asheville Medical Group, Masks of Love quickly found partners throughout the community, including French Broad Sewing and Upholstery, Joann Fabric and more. Its website has a running total of locally made masks and how many have been provided.
Debbie recently delivered a batch of 30 finished masks and picked up supplies for another batch. "I'm really enjoying it," she said. "I had not sewn much in at least 30 years, which I really enjoyed then."
Find out more at masksoflove.org.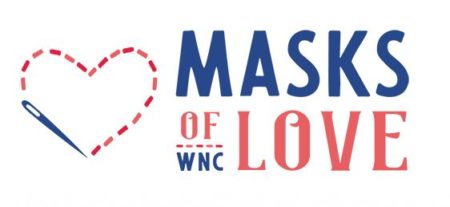 A mom pitches in for Asheville Fire Department
David House is a senior firefighter with the Asheville Fire Department.  He is also in the Army reserves and has been deployed to Kuwait. His mother, Martine House, made several masks and delivered them for Battalion 1 C-shift.  Here is a photo of several members of his company, with the masks, and a cardboard cutout of David.
Mother and daughter effort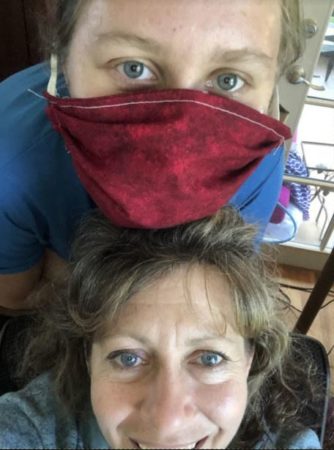 Capital Projects Project Manager Mary Beth Kingston is making masks with her daughter, Lilith Mueller, a junior in SILSA at Asheville High. She was gifted a stash of quilting fabric from a friend who passed away.
"My daughter designed the mask prototype, and we are both making them now," Mary Beth said. "They are double layer with an opening so you can insert a filter.  We now have pipe cleaners, so we will add them to make a snug fit at the nose."
They don't have a specific group to give the masks to yet and are open to suggestions about that.
Calling all cops: We have masks for you

Recently, South Asheville Police B Team day shift officers were surprised with APD branded masks and ear savers handmade by Officer Aaron Blevins' parents. These are a little more "fashion forward" than the department's standard issue masks.
On top of that, Redeemer Anglican Church donated 265 handmade cloth masks to family members of APD, even smaller sizes for kids. Thank you for such thoughtfulness!
Old technology meets new
What do you get when you mix a 1939 Singer sewing machine with a modern-day 3D printer? A unique project by Nancie McGraw.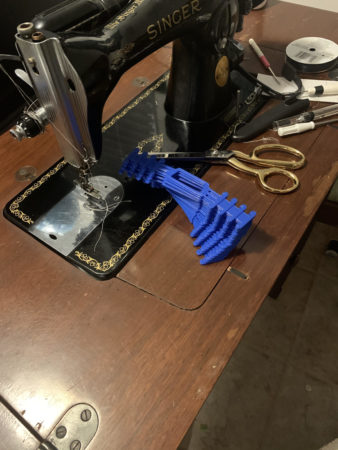 The senior software engineer for Asheville's IT Services Department used a 3D printer to make ear savers, a kind of adapter for the medical masks to relieve the irritation they cause behind the ears when worn for hours on end. "It was one of the things that I could make safely with my equipment and level of printing experience," she said.
While she was at it, Nancie decided to make 30 cloth masks for herself and close friends and family with her 1939 Singer model 15-91. "With the thickness of the multiple layers, it actually does a better job than my fancy computerized sewing machines," she said.
Nancie has made more than 360 ear savers, distributed between various clinics and doctors' offices in the area. IT coworker Steven Frey even secured some of them for a medical practice of a relative in Charlotte.
Keeping her coworkers covered
Water Resources Lab Technician Maggie Ramey started out making masks for her father, who is in a high-risk category. She then made and mailed some to relatives that she knew couldn't get or make their own. 
When coworkers found out about her mask-making abilities, they asked if she would make some for them. The lab technicians are needed on site and unable to do their work remotely, testing water to ensure its cleanliness for our community. They remain on the job even through holidays.
"I think I've made 32 for work people and about 65 total," Ramey said.