Looking for something fun to do with visiting family or children off from school? December 27 is Visit the Zoo Day, and the WNC Nature Center has three new animals that joined the Nature Center just in time for the holidays. The WNC Nature Center is closed on Christmas Eve, Christmas Day, and New Year's Day, but is otherwise open from 10 am to 4:30 pm with the last entry at 3:30 pm. Plan your visit at www.wildwnc.org.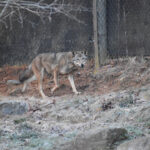 About Ben the American Red Wolf – Ben arrived at the WNC Nature Center in late November to be a potential breeding partner for a future female red wolf. After successfully quarantining, he and Karma were placed together for companionship until a new female is transferred to the WNC Nature Center in the spring. Ben was born at the Wolf Conservation Center in South Salem, New York in 2018. The WNC Nature Center is part of a breeding and management program known as the Red Wolf Species Survival Plan (SSP). Developed by the Association of Zoos & Aquariums, the SSP helps preserve genetic diversity of this critically endangered species and ensure the long-term sustainability of zoo-based animal populations.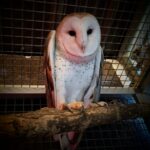 About Boris the Barn Owl – Boris has joined barn owl Bela in the Birds of Prey area. Boris is about 12 years old and came to the WNC Nature Center from Ross Park Zoo in Binghamton, New York. Special thanks to animal keeper Ben Wilson for adding new perches and nesting boxes to the barn owl habitat in preparation for Boris!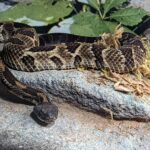 About the Rattlesnake – There's also a new rattlesnake at the indoor Appalachian Station, where the WNC Nature Center's reptiles and amphibians are housed. Unlike its predecessor, which was yellow phase, the new rattlesnake is a less common dark phase with a black head. Still unnamed, the rattlesnake is four years old and comes from the Tennessee Wildlife Resources Agency.
Can't make it on Visit the Zoo Day? Every day is a great day to visit the WNC Nature Center!
The City of Asheville's 42-acre WNC Nature Center, at 75 Gashes Creek Road, is home to over 60 species of animals native to the Southern Appalachian Mountain region. Its mission is to connect people to the area's natural resources and to advance conservation of native species.  The Nature Center is proud to be accredited by the Association of Zoos and Aquariums — the gold standard for animal care and welfare.  
For more information about the WNC Nature Center or to purchase tickets or a membership, visit wildwnc.org or call 828-259-8080.