With the bus travel lane stormwater project completed earlier this year, the second phase of the improvements to the ART Bus Station, 49 Coxe Ave., are about to begin. That is the renovation of the lobby/ticketing area!
This will include a complete renovation of the interior of the station lobby/ticketing area as the first phase of the project. City staff arranged for this portion of the project to be done while we still have warm weather to minimize impact to our valued bus riders. As before, bus service will be maintained throughout the project.
Fencing has already been erected adjacent to the station, in the Talbert parking lot, for the staging of construction materials and as a place where mobile units will be installed during construction. There will be two mobile units — one to serve as a ticketing/waiting area and a separate ADA-compliant bathroom facility with both men's and women's restrooms in it. They will be placed adjacent to the existing building.
The construction is expected to begin this month.
The station lobby will receive a complete retrofit, to include seating, flooring, lighting and renovated restrooms that will have baby changing tables in men's and women's restrooms. Public WiFi will be incorporated into the renovated station. The lobby renovation is estimated to take around 60 days.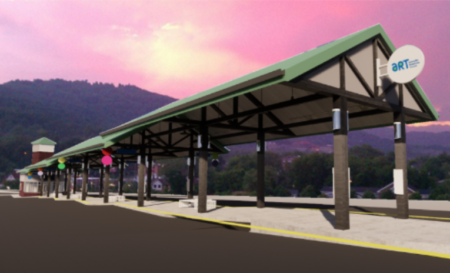 Following this phase, the platform will be renovated in phases. This will include pressure washing, installing additional benches, more lighting, and painting. Again, bus service will be maintained, though loading and unloading of some routes will occur on Asheland while work is being completed on the platform. There will be designated walkways around this construction.
The last phase of the ART Station renovation will be to install ADA ramps on sidewalks around the station and platform.
Altogether, this phase of the project is expected to last through late winter 2020, and possibly into early spring.
Look for an ambassador at the station to direct you, to help guide riders during this construction. iRide and ART text alert subscribers will receive notifications about the construction impacts as they occur.
Again, the City will make every effort to mitigate impacts to our valued riders and the buses will run as scheduled.
We appreciate your patience — and especially your ridership — while we make these important upgrades and renovations to the ART Bus Station.
Funds to pay for this Capital Improvements Project were allocated in the Adopted Fiscal Year 2019-2020 Budget and are separate from the Transit Master Plan year-one implementation budget. At their July 23 meeting, City Council authorized a budget amendment of $1.08 million to fund the second phase of the ART Transit Facility Renovation Project. Funding includes $214,000 from the Federal Transportation Administration and the rest comes from the City's assigned fund balance.