A new Urban Trail marker has just been installed in downtown Asheville to interpret architect Rafael Guastavino's legacy and built works, including the Basilica of St. Lawrence with its signature free-standing dome.
The marker — aka Guastavino's Monument — will temporarily serve as station #12 on the Asheville Urban Trail, a walking tour of the city's history that includes 30 pieces of public art.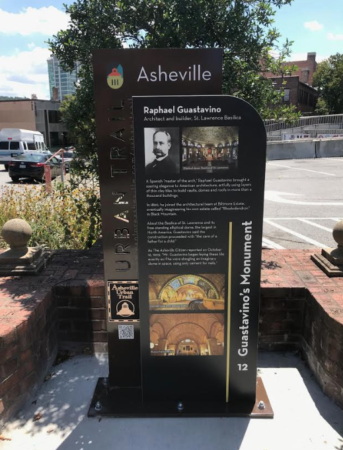 A design for a permanent marker that recognizes Guastavino's contributions will be developed next year, as part of a master planning process for the future use of the City-owned properties on Haywood and Page Avenue. The new, temporary marker was designed to stand on the corner of Haywood Street and Page Avenue (across from the Basilica of St. Lawrence) for the next few years, while pre-development activities like planning, engineering and site preparation take place. A celebration was held Aug. 14 for the completion of the sign.
The team that lead the completion of the sign includes founders and supporters of the original Urban Trail, the City of Asheville, members of the Public Art and Cultural Commission, the Asheville Downtown Association, Explore Asheville, the Basilica of St. Lawrence. The sign was designed by local firm GIGANTIC! with metal fabrication by Chukk Bruursema.
In addition to recognizing Rafael Guastavino in this location, the sign was designed so that the structure itself can be reused if needed when other stations on the Urban Trail are out for extended periods of time.
Find more information about the Urban Trail at www.exploreasheville.com/urban-trail.