Asheville's urban bears looking for an easy trash can meal may find the trash can just won't open, under a pilot program of bear-resistant trash carts.
Hopefully, this will make our neighborhoods safer for area residents — and the bears.
An item approved by Asheville City Council Nov. 10 amended the City's Fees & Charges schedule to allow the Sanitation Division to provide bear-resistant trash carts for a $10 a month fee on a first-come, first-served basis for the duration of the pilot program.
The initial order of bear-resistant trash carts will be funded from the Sanitation Division's Fiscal Year 2020-2021 operating budget. This funding allows for a purchase of 340 bear-resistant carts for $220 each, plus shipping and tax for a total of $81,052.50. 
"More than a third of the calls that the N.C. Wildlife Resources receives about bears statewide come from Buncombe County," said City Sanitation Manager Jes Foster. "Asheville residents are experiencing an increase in human-bear interactions and there are safety risks associated with these increasing issues."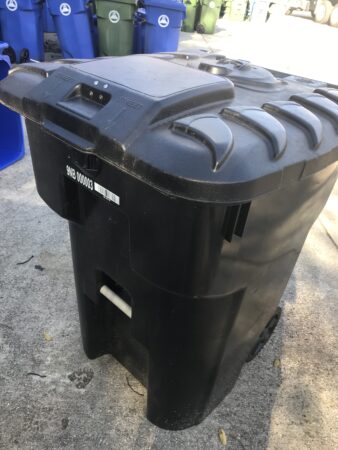 Securing garbage is identified as one of the top ways to reduce human-bear interactions and resulting problems. Eliminate the food source and the bear usually moves on.  Asheville residents have frequently requested that the City provide bear-resistant trash carts.
In the past, City residents have been allowed to provide their own bear-resistant carts, as long as they are compatible with City Sanitation collection vehicles. Fully-automated bear-resistant carts that stay locked until the collection truck empties them are very expensive to order individually, so this bulk purchase is more economical. 
The bear-resistant carts will be available in early 2021.  Carts are 95 gallons (same size as regular large green trash carts) and weigh 45 pounds (10 pounds heavier than regular trash carts). They are for trash only, not recyclables or yard waste. Please visit ashevillenc.gov/bearcart to sign up for a cart.
Residents who sign up for the carts will agree to a one-year rental commitment.
If the pilot program is successful, City Council may consider using future revenues from the rental program to support provision of bear carts for lower-income residents through a rebate program.
In the meantime all residents are encouraged to deploy BearWise practices to discourage bears, such as securing trash cans in a garage and not leaving pet food outdoors. BearWise is a program developed by bear experts in the southeastern United States that shares ways to prevent conflicts, provides resources to resolve problems, and encourages community initiatives to keep bears wild.
"The saying goes that 'a fed bear is a dead bear,' " said Foster. "By implementing this pilot program, we hope to cut down on human-bear interactions for the safety of everyone."