Asheville Parks & Recreation (APR) continues to grow its team of professionals with internal promotions and external hires to meet the community's demand for high-quality public parks and recreation centers, programming that exercises the body and mind, and safe spaces that connect neighbors and build resiliency. These well-earned promotions support APR's vision to be North Carolina's center of parks and recreation innovation focused on equitable community recreation, attracting and developing professionals, and implementing sustainable practices.
Facility Supervisor – Angel Redmond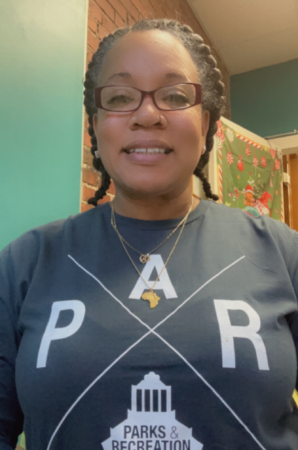 Angel Redmond has been promoted to Facility Supervisor at Stephens-Lee Community Center. As an Asheville City Schools staff member, she came to the community center as part of a small group learning program called Positive Opportunities Develop Success (PODS), a partnership between APR and community organizations that came about as a result of remote learning during the COVID-19 pandemic. Seeing how much APR connects with the community, she joined the team as seasonal support staff and was later promoted to a permanent position, Program Leader. In that role, Angel has enhanced center programs, developed stronger relationships with the Stephens-Lee alumni and East End Valley Street Neighborhood Association, and created a new relationship and program plan with the Maplecrest community.  
"The ability to grow within an organization, coupled with feeling empowered in a building historically known for Black pride, is not only a feeling of advancement, but an honor as well," according to Angel.
Crew Supervisor – Pat Kazanjian
Pat Kazanjian joined APR a year ago and has been promoted from Senior Tradesworker to Crew Supervisor. According to his supervisor, Pat has hit the ground running and is already making a difference in the city's parks.
Crew Supervisor – Brandon Willis
Brandon Willis has been part of the department since 2011 and has been promoted from Equipment Operator III to Crew Supervisor. Brandon has vast experience in our parks and will make a great addition to our crew supervisor team, according to his supervisor.
Outreach Program Coordinator – Calvin Owens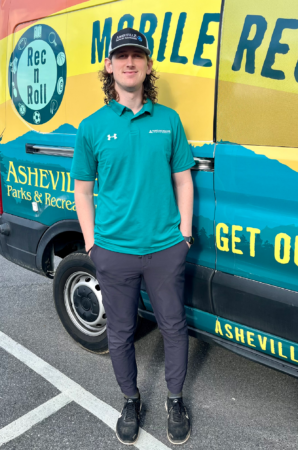 Calvin Owens joined the department in 2022 as a Program Leader after spending more than 10 years with municipal parks and recreation agencies and as a Wilderness Therapy Field Instructor. He holds a Bachelor of Science in Recreation, Parks, and Tourism with concentrations in Special Events and Outdoor Recreation from Radford University.
In his new position of Outreach Program Coordinator, he will work on large and small events throughout the community that extend the power of recreation beyond our parks and community centers.
Outdoor Program Coordinator – James "Daniel" Manget
James "Daniel" Manget has joined APR as Outdoor Program Coordinator following seven years with the North Carolina Wildlife Commission overseeing Aquatic and Fishing Education programs. His outdoor and community program experience also includes work at various schools, private, state, and federal agencies. He will help develop and lead outdoor and environmental education programs.
Certified Park and Recreation Professionals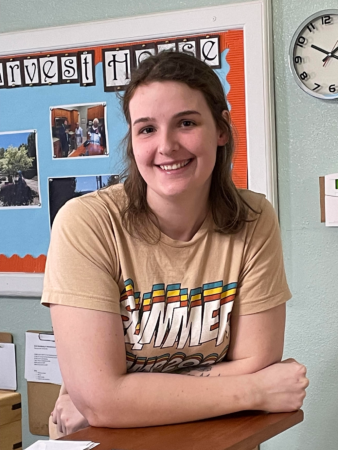 Two APR team members recently passed exams to earn the Certified Park and Recreation Professional (CPRP) credential. They join 6,900 of colleagues at the forefront of the profession who have committed to advancing the field of public recreation, incorporating parks and community programs as essential infrastructure to address resiliency and health outcomes.
Kyle Autrey is Facility Manager at Burton Street Community Center. "I am grateful for the opportunity to continue to learn and grow as a parks and recreation professional to better serve the citizens of Asheville," Kyle says. "The CPRP designation allows us to stay at the forefront of innovation in the recreation field and I plan on using the knowledge learned and resources to continue to bring new opportunities to the people of Asheville."
Megan Wiet is Program Leader at Harvest House Community Center. "Obtaining my CPRP was an exciting next step in my professional development," Megan says. "I wanted to demonstrate my commitment to bringing a high level of professionalism to the field and to challenge myself to build knowledge beyond my day to day focus of programming. I am passionate about parks and recreation and achieving the CPRP status was a manifestation of that passion."
Join Our Team
If you're  passionate about parks, recreation, and making your community a great place, APR has opportunities available on the City of Asheville's job board.