Asheville Parks & Recreation is pleased to welcome the community to the newly renovated Jake Rusher Park!
A ribbon cutting ceremony will be held at 10 a.m. July 24 followed by fun, games and activities in the park until noon.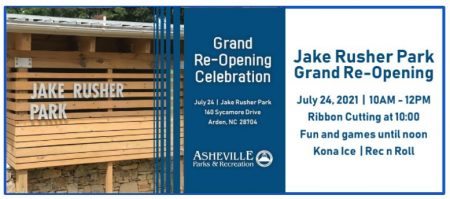 Extensive community input informed the improvements to the park. The upgrades include new parking, accessible sidewalks, basketball courts, a pavilion and restroom building as well as new landscaping and improved lighting. Stormwater improvements and relocated electric utilities were also part of the project.
Jake Rusher Park is a bond project approved by Asheville voters in 2016. The $74 million in bonds includes projects in parks ($17 million), affordable housing ($25 million) and transportation ($32 million).
The City's bond projects are on schedule and on budget. Keep up with progress by visiting Capital Project's Bond Project Dashboard at this link:
https://dashboards.ashevillenc.gov/capital_projects
Jake Rusher Park is at 160 Sycamore Drive in Arden.  Asheville Parks & Recreation is committed to providing quality programs in a safe environment for everyone in our community.  For more information about Asheville Parks & Recreation facilities and programs, visit our website at www.ashevillenc.gov/parks, our Facebook page at www.facebook.com/APRCA or call 828-259-5800.