Asheville Parks & Recreation (APR) has announced a number of promotions within the department as community demand for high-quality public recreation spaces, leisure and cultural programming, and youth and adult sports increases following years of slimmed-down operations during the height of the coronavirus pandemic. These well-earned promotions reinforce APR's vision to be North Carolina's center of parks and recreation innovation focused on equitable community recreation, attracting and developing professionals, and implementing sustainable practices.
"Our focus is simple, but the way we achieve it can be complex and involves boundless creativity," according to D. Tyrell McGirt, APR Director. "We can improve the quality of life and sustain resiliency for everyone within our community by providing the very best parks and recreation spaces, intentional opportunities for social community interaction, and programming that encourages lifelong health and learning through active lifestyles. I'm excited to see the approaches these individuals bring to our team addressing those opportunities through our core values of inclusion, accountability, collaboration, and trust."
Recreation Division Manager – Candy Hensley Shaw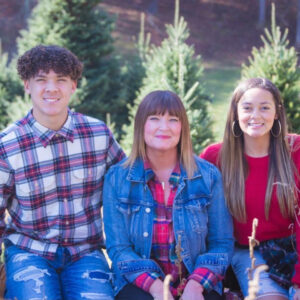 Candy joined the department in 1997 as summer support staff. Over the course of 25 years with APR, she has been an intern, Recreation Program Leader, Facility Manager, Outreach Specialist, Aquatics and Program and Operations Manager. She holds a Bachelor of Science in Parks and Recreation Management from Western Carolina University and professional accreditations of Certified Parks and Recreation Professional (CPRP) and Certified Pool Operator (CPO).
In her new role, Candy will lead the division responsible for innovative cultural and recreational programs including 10 community centers and recreation complexes, special events and outreach experiences, experience programs, and adult and youth sports.
"I knew after one summer working with the department that this was the path for my career – I absolutely fell in love with parks and recreation," according to Candy. "I am grateful for the opportunities that APR has provided me. My experience in all my various positions helps to understand the true operations of the Recreation Division. I am excited about leading this outstanding team! We provide so many wonderful opportunities for the community and our staff does a great job at achieving that. I am eager to see what we can accomplish!"
Labor Crews Manager – Eric Daggett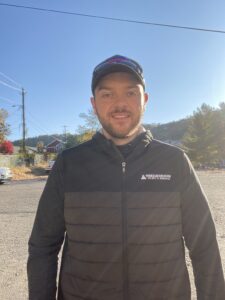 Eric joined the department in 2020 as a Labor Crew Supervisor. He has been instrumental in raising the standards of the city's parks. His coworkers say his charismatic personality and attention to detail are displayed daily in the work he does.
He holds three Bachelor of Science degrees in Business, Marketing, and Sports Management. He also holds a Master of Recreation Management. He recently became a Certified Parks and Recreation Professional (CPRP) and is always looking for ways to further develop himself for his career.
As Labor Crews Manager, Eric will be in charge of the teams responsible for maintenance and equipment operation of downtown parks, upkeep and cleaning, and weekend management.
Outreach/Special Events and Outdoor Recreation Manager – Christine Elyseev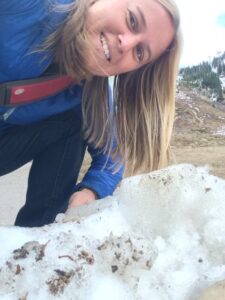 Christine joined the department in 2015 as Outdoor Programs Coordinator after more than 10 years of directing and teaching outdoor and environmental programs. She believes you're never too old to have fun unless you put those limits on yourself. Christine has led or assisted numerous initiatives such as departmental special events, the Rec N Roll mobile recreation program, outdoor summer camps, and PODS enrichment development, as well as managed the Murphy-Oakley and West Asheville community centers.
Christine is a Nittany Lion through and through and holds a Bachelor of Science in Recreation Park and Tourism Management from the Pennsylvania State University. She is a Certified Parks and Recreation Professional (CPRP), Wilderness First Responder, and has several specialty certifications for teaching adventure sports.
As Outreach/Special Events and Outdoor Recreation Manager, she will be in charge of Outreach and Outdoor staff as her team works to continue bringing exceptional recreational opportunities to the people of Asheville.
Therapeutic Recreation Manager – Lori Long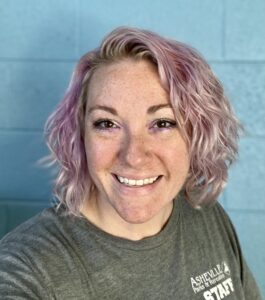 Lori joined the department in 2011 as Therapeutic Recreation Coordinator. She has overseen Therapeutic Recreation (TR) programs such as cooking classes, the OAKS Afterschool program, and adaptive sports leagues including baseball, flag football, bowling, basketball, and more. Lori also oversees the day-to-day operations of Murphy-Oakley Community Center.
With more than 17 years of experience, she holds a Bachelor of Science in Recreational Therapy from Western Carolina University and is a Certified Therapeutic Recreation Specialist Parks (CTRS).
As Therapeutic Recreation Manager, Lori will directly oversee the TR team, community center operations and management, collaborative partnerships, and recreation programs and events that ensure equity for individuals and the community-at-large.
Athletic Manager – Zack Stewart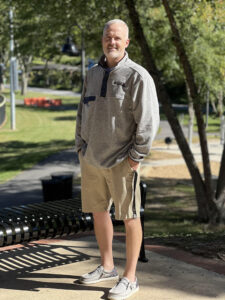 Zack joined the department in 2017 as a Facilities Supervisor after spending more than 10 years as a physical education teacher with Buncombe County Schools. Since 2017, Zack has led or assisted numerous departmental initiatives such as departmental special events, summer camp planning, PODS enrichment development, and Asheville-Buncombe Senior Games, as well as managed North Asheville Community Center.
He holds a Bachelor of Science in Physical Education / Health and Wellness from Western Carolina University.
Zack will manage Community Adult and Youth Sports staff within the Recreation Division which includes leagues, special events, and tournaments in a variety of disciplines including basketball, flag football, volleyball, pickleball, baseball, softball, and more.
Join Our Team
If you're  passionate about parks, recreation, and making your community a great place, APR has opportunities available on the City of Asheville's job board.