Beginning March 9, individuals interested in joining Asheville Parks & Recreation's team of seasonal laborers can walk in for immediate interviews on Wednesdays from 12:30-2:30 p.m. Interviews take place at the department's asset management office on 3 Hunt Hill Place near downtown Asheville. Laborers can expect to perform a variety of duties including grounds and facility maintenance, upkeep, and cleaning.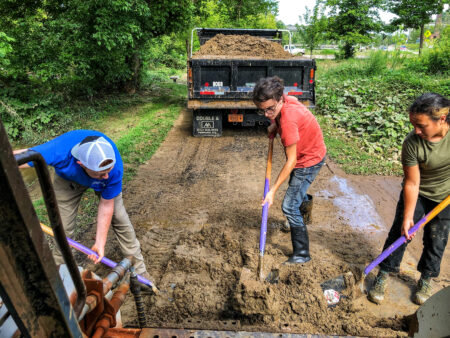 "As we enter spring, the needs increase for our parks, community centers, and greenways in regards to landscaping, maintenance, and event support," according to John Shaw, Asheville Parks & Recreation Asset Manager. "By supplementing our year-round staff, we're able to keep up with regular park duties and provide additional attention to outstanding places that allow our community to explore, connect, and discover."
Morning, evening, and weekend shifts are available and provide flexibility depending on candidates' schedules. Seasonal and temporary positions are scheduled for up to 1,000 hours in a year. They are not eligible for benefits, paid leave (vacation, sick, or holiday), or participation in the City's retirement system. Regular responsibilities include operating tools, pulling weeds and collecting debris, routine custodial services, loading and unloading, and repair work. For a full job description, visit ashevillenc.gov/jobs.
Open interview hours
March 9, 16, 23, and 30 from 12:30-2:30 p.m. (all dates are Wednesdays)

Asheville Parks & Recreation, 3 Hunt Hill Place in Asheville

Park in a visitor parking space and go to the office

Supervisors conduct interviews on a first-come basis. Verbal offers may be extended contingent on completing the City of Asheville's onboarding process.
About Asheville Parks & Recreation
Established in 1954, the Asheville Parks & Recreation Department manages a unique collection of more than 55 public parks, playgrounds, and open spaces throughout the city in a system that also includes full-complex recreation centers, swimming pools, Riverside Cemetery, sports fields and courts, and community centers that offer a variety of wellness-, education-, and culture-related programs for Ashevillians of all ages. With 8 miles of paved greenways and numerous natural surface trails, its complete portfolio acts as the foundation of a vibrant hub for the people of Asheville to connect with their neighbors and explore the natural beauty of a livable and walkable city.
Driven by the promise that Asheville is a better and safer place when everyone from infants to retirees has the opportunity to be supported, healthy, and successful, Asheville Parks & Recreation was the first nationally-accredited municipal recreation department in the United States. For more information, visit www.ashevillenc.gov/parks.