After several months of firefighter training that was both mentally and physically challenging, 21 new recruits of the Asheville Fire Department graduated to join  with firefighters currently serving the Asheville community. 
March 23 was graduation night for these members.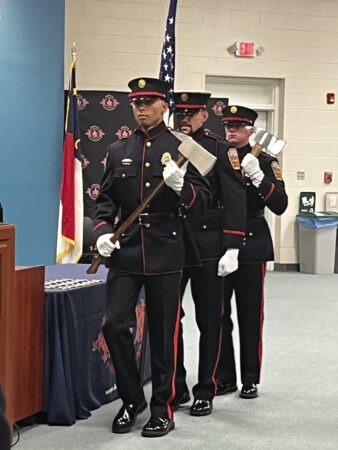 But before ceremonies and celebrations, came the hours of hard work and a committment to the dedication required to train as an Asheville Firefighter.
Much of that training culminates on one night – as hopeful, soon to be graduates take part in numerous scenarios, from small to large scale, simulating a very busy night on shift. 
During the training, held at the Buncombe County Emergency Services Training Center, recruits were put to the test responding to a variety of calls throughout the night. 
From medical, to motor vehicle wrecks, to fire, to high-angle rescues and more,  members from AFD, the Buncombe County Emergency Services Training Center, and BC EMS worked throughout the night, creating reality based scenarious.  Recruits rose to the occassion, constantly responding to calls throughout the night until around 6:00 a.m. Friday morning.