On Tuesday, November 15, Mayor Esther Manheimer awarded three Asheville citizens special recognition for their service to the community. Angela Young, Lee Arevian and Michael Stratton were each presented with a plaque to acknowledge their commitment to neighborhood resilience at the City Council meeting. 
Volunteer of the Year program
The Neighborhood Volunteer of the Year award was initiated in 2017 by the Council-appointed Neighborhood Advisory Committee. The last time that Council presented the awards was in 2019, just months before the Covid-19 pandemic. 
Bobbette Mays serves as the Chair for the Neighborhood Advisory Committee. "The award is designed to recognize and honor local volunteers who have demonstrated significant and positive contributions toward their neighborhood association," said Mays during the awards presentation, "and a commitment to strengthening city neighborhoods through volunteer time, talents and service. They are our unsung heroes."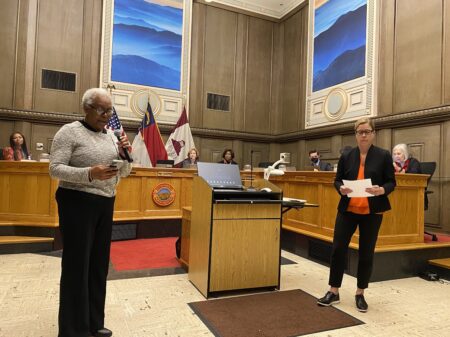 Bobbette Mays and Mayor Esther Manheimer announce recipients
This year's recipients
This year's award recipients were nominated by members of the community. The Neighborhood Advisory Committee voted unanimously at their October 24 meeting to select three recipients for the award. 
Angela Young was recognized for her positive influence in the Hillcrest neighborhood, including community event support, food distribution and the organization of a neighborhood council. Young was nominated by her friend and neighbor, Daniel Suber, who says that she, "…takes action to show fellow residents that there is love nearby and that it feels good."
Lee Arevian is the current president of the Grove Park Sunset Mountain Association, where he is appreciated for his interpersonal and leadership skills. In her nomination, Wendy Haner wrote that, "Lee helps bring neighbors together and to make everyone feel included… His philosophy is to have a positively strong community and  he feels this is important for everyone who lives here."
Michael Stratton was instrumental in the formation of the Oakley Neighborhood Association in 2021 and has spearheaded efforts including two Open Streets Events and a neighborhood resilience garden. Elizabeth Wallace said in her nomination that, "Through leading committees, coordinating volunteer clean-up days, and tending the resilience garden, Michael makes our neighborhood more connected and vibrant."
When accepting the award, Stratton credited his neighbors who came together to make it all happen. "If you're engaging in community organizing, it takes a community to be a part of that… it's obviously not something that you can do by yourself."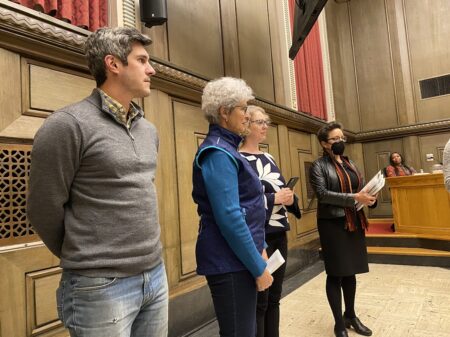 The Neighborhood Advisory Committee will announce the next call for nominations for the Neighborhood Volunteer Award in 2023. The committee meets on the fourth Monday of the month at 6:00 p.m. in the First Floor North Conference Room at City Hall. Meetings are live streamed to the City's YouTube channel. The next meeting will be held on Monday, November 28, 2022.