Civic partners stepped up to provide funding for three bus shelters — $16,000 in contributions combined — accepted in a budget amendment by Asheville City Council during their May 25 meeting.
The Transportation Department has been working with these community organizations to provide donations to install standard bus shelters along Asheville Rides Transit bus routes.
The Rotary Club of Asheville-Biltmore and Rotary Club of Arden will provide $14,000 to purchase and install two bus shelters at bus stops on Hendersonville Road, including a bus stop on Hendersonville Road at Gerber Road and another on Hendersonville Road at Turtle Creek, serving the S3 and S6 bus lines.
In a statement regarding the donation, the Rotary clubs said, "In late 2019, the Rotary Clubs noticed a need for shelters at bus stops to protect riders from inclement weather.  We noticed that there were people standing in the rain, or even sitting on the sidewalks during a storm, while waiting for a bus to arrive. We felt that addressing this need would be a wonderful way for Rotary to serve both our community and its people. It is our hope that more shelters will be installed via Rotary in this manner."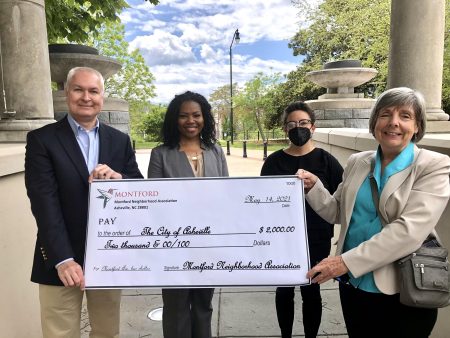 The Montford Neighborhood Association will provide $2,000 to replace an existing bus shelter and add a trash can located on Montford Avenue at Bulldog Drive, serving the N4 bus line. Like the two bus shelters recently installed by the MNA at the intersection of Montford Avenue and Cullowhee Street, this shelter will also include decorative history panels designed by former Montford resident and specialist in applied history, Sharon Fahrer.
Transit Planning Manager Eunice Lovi agreed the Montford shelter needed to be replaced and welcomed the community partnership. "Initiatives to increase ridership and improve system performance also include safe, comfortable, and well-maintained shelters," she said.
The City will work with contractors to install the bus shelters.
Thank you to the Montford Neighborhood Association and the Rotary Club of Asheville-Biltmore and Rotary Club of Arden for these donations to provide bus shelters for our ART riders!
Find a copy of the staff report to Council at this link.
About ART bus service
Asheville Rides Transit provides bus service throughout Asheville and to Black Mountain from 5:30 a.m. to 10:30 p.m. Monday through Saturday and 8 a.m. to 6 p.m. Sundays/holidays. 
The ART Station is at 49 Coxe Ave. ART serves 19 routes with an annual ridership of 2.3 million, per pre-Covid data.
Fares remain free for now. Fare collection will begin again on June 1. It costs $1 to ride the bus.  A ticket booklet (11 rides) costs $9 and a monthly pass costs $20. Both are available for purchase at the ART Transit Center, 49 Coxe Ave.
The ART Transit Station, 49 Coxe Ave., has been completely renovated, including improvements to the interior of the station/lobby, additional outdoor seating, and upgraded lighting, as well as new lighted digital displays boards and public wi-fi.
If you haven't already, we invite you to download the Transit app to your smart device, to help plan your trip for better efficiency. Visit the City of Asheville Transit webpage for more information or stop by the ART Transit Center.