The City of Asheville's River Arts District will be the backdrop of two greenway events in August.  The City of Asheville is proud to work with community partners, RiverLink, Land of Sky Regional Council and Connect Buncombe as they celebrate greenways for our community.  To celebrate our partners' events, we will declare them to be "Year of the Trail" events for Asheville and our region. 
2023 NC Year of the Trail celebrates North Carolina's vast network of trails, greenways, and blueways which showcase our diverse landscapes – grand mountain vistas, quiet rivers, vibrant urban greenways, coastal forests, and the rolling hills of the piedmont.
NC Year of the Trail is the largest statewide celebration of trails and outdoor recreation in North Carolina history. Learn more here. The City also has a Proclamation, recognizing the Year of Trail.  
Here are a few trail-related events in Asheville coming up: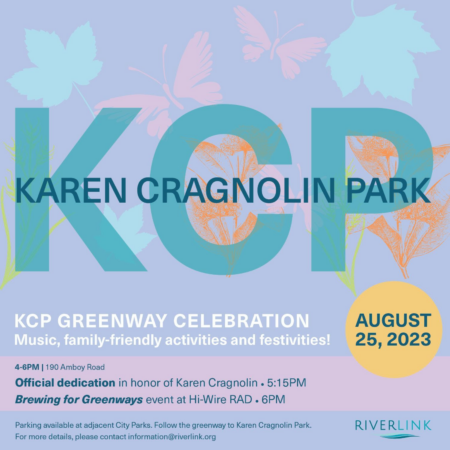 Friday, August 25 – Karen Cragnolin Park Greenway Dedication
Join RiverLink and partners Friday, August 25, 4-6 PM as they dedicate the final segment of the greenway in the ribbon of parks along the French Broad River, at 190 Amboy Rd. Enjoy free sno-cones, music and family-friendly activities beginning at 4:00 PM, and spoken word at 5:15 PM as we celebrate the remediation of this once contaminated property, and honor the life of RiverLink founder and community visionary, Karen Cragnolin. Then beginning at 6:00 PM, we'll migrate to HiWire Brewing AVL RAD Beer Garden for a refreshing beverage with Connect Buncombe's "Brewing for Greenways."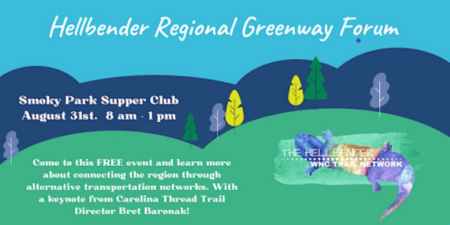 Thursday, August 31 – Hellbender Regional Forum
Please join your neighbors for the Hellbender Regional Greenway Forum, hosted by the Land of Sky Regional Council, on Thursday, August 31, 2023, at 8:00 AM. The in-person event will be held at Smoky Park Supper Club, 350 Riverside Drive #3141, Asheville, NC 28801. Register here. 
At this forum, participants will dive deep into the world of regional greenways, exploring their impact on our environment and community. Whether you're a nature enthusiast, a local resident, local government employee or simply curious about the topic, this event is perfect for you! Expect a day filled with engaging discussions, informative presentations, and networking opportunities. The keynote address will be delivered by Bret Baronak, Director of the Carolina Thread Trail. We will also have an exciting Year of the Trail update from Palmer McIntyre, NC Year of the Trail Director, Piedmont Land Conservancy/ Piedmont Legacy Trails.